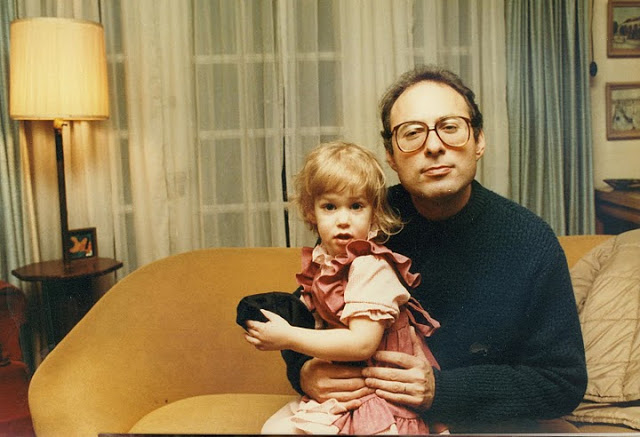 This picture must be from 1983–I'm about three. I'm at my grandmother's old house on 69th Avenue in Philadelphia with my Uncle Robert. That framed piece of art in the background to the left is a painting created by my Uncle Stephen inexplicably called The Flying Coke, which has graced a surface of my grandmother's various apartments to this day.

During this period where I didn't even know I had the best hair of my lifestyle naturally, I would only wear things that were ruffled or with puffed sleeves and if someone thought I'd don something that wasn't, I told them about themselves, in the words of Eileen. I distinctly remember a red robe that did NOT have puffed sleeves that I insisted my mom sew a mini lace ruffle onto the shoulder seams because otherwise "it looks like it's for BOYS."  I remember announcing that the most exciting things in the universe were (for me at three) jewels and furs. I was confused that adults laughed about it. I was not a normal three year-old to say the least. I was not even raised in an environment where either of those things really existed. My mother never wore fur and had one really nice faux and to this day never got an engagement ring since she and my dad eloped more than 40 years ago. I'm pretty sure I learned of all this fanciness watching Dynasty with my babysitters.
But my POINT that I'm evidently taking an eon to make is that LOOK at that hair. I pay so much for my hair to be that color now. It takes hours of highlights and the handiwork of one Mr. Jason Backe, various and sundry gloss treatments, deep conditioners–and I still don't get to 1983 status. But I don't have to renounce its shiny vitality and bounce as a thing of the past along with chivalry, because Living Proof's latest innovation is blowing me AWAY with its incredible new line, Restore. It claims to "restore your hair's virginity," (YOUR HAIR'S, it's not THAT miraculous) and does it ever. Boasting the hair care brand's signature moisture-controlling molecule, PolyfluoroEster, Restore shampoo, conditioner and mask treatment nourishes hair damaged from excessive shampooing, brushing and heat styling by creating a protective layer that heals and prevents future harm. Its sulfate-free formula containing Tucuma seed butter, wheat protein and creatine (the body-building supplement of meatheads the world over) forms a weightless blend that increases mirror-like shine and smooths cuticles. The brains behind Restore claim it may take up to five uses before your hair starts to feel and behave like it did when you were a kid, according to the brains behind Restore.. But while I noticed gradual improvement the more I used it, I also noticed my hair gleamed in an alternate-reality way after a single use–and the party improved from there. Restore Shampoo ($28), Conditioner ($28) and Mask ($28) are available at Sephora.
a
This is a pic of me sans makeup but with GLEAMING HAIR last night
which is why my hair is strategically placed over a current patch of
redness on my cheek. This is why I don't post pics of myself on here. Also
yes, this pic is almost too grainy to SEE the gleam. SORRY.
It's an era where everything old is new again– '60s period television shows like Mad Men and then Pan Am, The Playboy Club and NOW VALLEY OF THE DOLLS reign supreme. Will you be restoring your hair's virginity?
Like this post? Don't miss another one! Subscribe via my RSS feed.