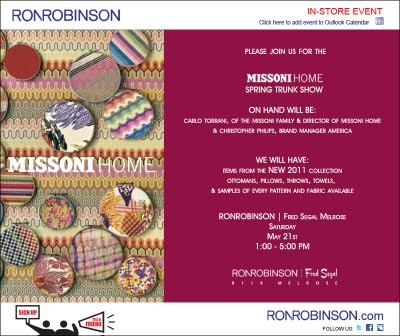 Few things are better than Missoni's home wares. I just went to the preview for Missoni for Target, BTW, (launches September 13) and it was EVERYTHING. I'm getting a Target credit card JUST to counteract some of the damage I intend to do that day, which will likely live in infamy. But anywho. I'm not in L.A. this weekend (I'm in Turks & Caicos, though, which I may have mentioned about 876 times on this blog), but if you are, head to the trunk show at Ron Robinson!
And tell me what you cave on.
You're welcome,
Amber
Like this post? Don't miss another one! Subscribe via my RSS feed.