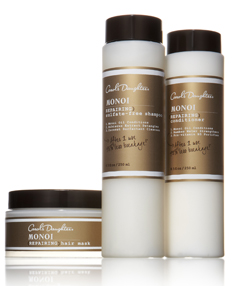 Fictionary is a column showcasing beauty-related words that don't exist, but should.
I have a new favorite shampoo and conditioner and it's Carol's Daughter's new Monoi Collection. I'm straight up monoi-ical about it to the point where I'm monoi-d when I use anything else. Here's why I love it: It leaves my hair softer and shinier than anything else I've tried thus far. My hair stays clean-looking for a full 24 hours longer than other shampoos. Also, you know how most shampoos don't deposit a longlasting scent on hair? Like, you're lucky if you can still smell your shampoo a couple hours after your shower? With this one, your second-day locks will smell as if you just shampooed. LOVE that.
This suite of prods has a storied history. Almost a decade ago, Carol's Daughter founder (and daughter of Carol, of course) Lisa Price became obsessed with native Tahitian concoction monoi, made with pure Tahitian coconut oil and tiare flowers.
Genuine monoi must be manufactured in Tahiti and has been used for years to help soften and repair hair and skin. Lisa became monoi-ical with using it as a raw material in the then-burgeoning homemade beauty product business she'd been running out of her Brooklyn apartment. Because a jaunt to Tahiti wasn't in the cards, she created her own counterfeit version using gardenias, a scent she'd heard was similar. Later, she obtained the real thing—an enormous shipment of monoi, but she spent several more years working on the perfect formula for her latest monoi-based hair care line trio.
The sublimely scented monoi trio collection consists of a Repairing Shampoo ($18), Repairing Conditioner ($20) and a Repairing Hair Mask ($29). Damaged divas rejoice: It has been clinically proven that after one use of the Monoi trio collection, hair breakage was reduced by an impressive 96% and the lifespan of hair increased by up to twelve times.
You will WANT to get involved with this one, friends. The Carol's Daughter Monoi Collection is available now at Sephora and
carolsdaughter.com
.
Like this post? Don't miss another one! Subscribe via my RSS feed.