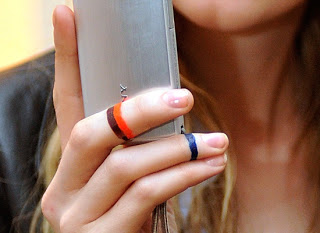 Beauties, I'm KIND of kvelling because yours truly is the first-ever freelancer for one of my favorite beauty sites, BellaSugar. I reported backstage at Vena Cava's Fall 2011 show for the "CNN of beauty" today. Here's an excerpt: 


Reignite your dormant Jordan Catalano crush, because at Vena Cava, it was all about the '90s. 
Nails: Nonie Crème is officially the Donald Trump of hand real estate: Working for Butter London for Beauty.com, she changed the nail game by painting rings of polish onto the models' fingers just below the first knuckle. "It's like wearable art; you allow it to deconstruct," Crème explained. Three to four rings per finger were painted, with no more than two fingers per hand. "It's great to polish an area where you can't wear jewelry because it would fall off," Crème noted. Shades included Royal Navy, Scoundrel, Flouro, Tramp Stamp, and Union Jack Black, and the talons themselves were glossed with a crisp top coat.

Read the rest of the post at BellaSugar.com. 




Like this post? Don't miss another one! Subscribe via my RSS feed.