Tibi's beauty look at the Spring 2011 collection at Fashion Week was minimistically chic, designed to evoke an easy, yet tailored and refined look.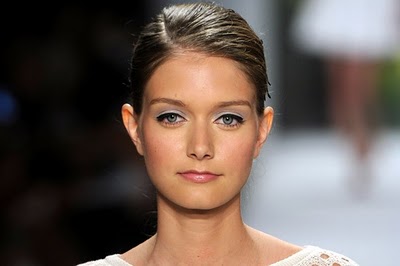 The beauty look at Tibi Spring 2011. Photo: Getty Images
To compliment the tonal silhouettes of the collection, makeup artist Bobbi Brown crafted a fresh face with a pop of peony-inspired color on the cheeks and a polished eye. Bobbi used an exclusive palette that designer Amy Smilovic and Bobbi collaborated on for Spring '11 called "Peony and Python"–and let me tell you, the shit is GORGE. Bobbi fans and makeup gals the world over will retire to their respective fainting couches upon seeing it. The makeup breakdown:

Skin: Hydrating Face Cream, Hydrating Eye Cream, Foundation Stick, Creamy Concealer, Corrector
Eyes: Ivory Eye Shadow, Cool Ivory Eye Shadow (Peony & Python Face Palette-$60), Opal Eye Shadow (from the palette), Plum Orchid Eye Shadow (from the palette), Black Ink Long-Wear Gel Eyeliner, Extreme Party Mascara
Cheeks: Desert Rose Blush, Rose Face Highlighter Pen both applied all over the apples of the cheeks
Lips: Lilac Rich Lip Color (Peony & Python Palette–$11) slicked on from the tube, then dabbed with fingers
The always entertaining Kevin Ryan and Frank Rizzieri from R Session Tools teamed up to create the hair concept. This time, it was a simple sleek pony decorated with a bobby pin/barette hybrid from Ricky's NYC on the side of the face, anchoring wayward bangs or hairline pieces out of the face. They come in colors to match hair, but Kevin said that they "purposefully chose colors that clashed with the models' hair" for fun. The ponytail itself is "very Helmut Newton, without the shine. The low side part is the highlight, and the medium placement on the head is not too cheerful and high nor too somber and low," said Ryan. "It hits the perfect mid-note."  I was mesmerized by Kevin's glamazing Heat Mat by R Session Tools which–get this–changes colors when your heat tool on which it's resting gets hot enough.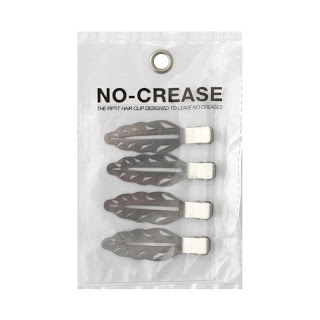 Lastly, I chatted up Ricky (yes, that Ricky) about some of his new hair products in-store and learned that he's been partnering with Kevin and Frank to create some how-did-we-ever-live-without-these hair accouterments. First is his No-Crease Leaf Clips, a genius genius genius. It replaces those clip/tissue combos you always see backstage to keep hair out of the face without messing up the hair. These delicate hair clips are weightless and the air vents allow for weight and tension to be distributed easily so that there's no line when they're removed. Ricky even gave me a set, which I've been keeping in my bathroom (my own "backstage") and using to do my own makeup. He also created with Kevin a silicone comb (which he also gave me–I left backstage with a haul, the value of which amounted to 1/100th the amount of moolah I've spent at his joint over the years, which made me feel good about this transaction)) with oil baked INTO it to effectively tame dry, uncooperative manes. They last about a year and are "especially useful for hair stylists who dry-cut," explained Ricky.
Nails were done up with Dashing Diva's Debutante, a pretty pink, in two coats by lead Pattie Yankee.
What do you think of this look?
Like this post? Don't miss another one! Subscribe via my RSS feed.