Some Hist: Foxwoods Circa the New Millennium
In the years 2000 and 2001, I loved nothing more than to drive down to Foxwoods (from Boston, when I was in school at Boston University) with my best dude friend (at the time) Mitch and GAMBLE. It was so exciting because we weren't yet 21.
We'd drive up for the day, I'd spend an hour or three at the slot machines while Mitch was more brave and hit up the blackjack tables. When asked for ID, we'd flash our fakes. If I won, I'd immediately call my dad, thrilled to be able to gush about my winnings–my best to date was only $50. "Get the hell out of there," he'd scream. "You're not 21!" But that made it all the more fun. Then, we'd eat some delish food and head back up to Beantown. I also tried my underage hand multiple times in Atlantic City and Vegas. It only got old once I turned 21 and realized I'd rather spend my money on tangible things. Preferably those things found at Sephora.
Foxwoods Circa Now
It turns out, Foxwoods is even more fun when you don't gamble. I was invited back up to Foxwoods for the weekend, my 2010 self was psyched to discover how much else the revamped space has to offer. I had a phenomenal weekend enjoying the restaurants, clubs, spa and New Kids on the BLOCK concert, which just happened to be featured the weekend I was there. Gambling and potentially losing tons of cash and getting nothing? Sucks. Dropping some cash on a luxurious room, spa treatments, delish food and drink? Far more my speed in my 30s, it seems. Foxwoods boasts four hotels, 34 restaurants, two spas and seven casinos. You're sure to find something fabulous to do.
Spa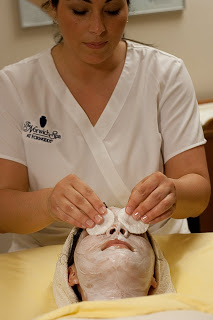 I stayed at the Grand Pequot where I immediately headed to newly revamped Norwich Spa. I was scheduled for an Anti-aging Action Plan facial ($110/$125 on weekends) with esthetician Amy, who was wonderful. She confessed that she absolutely loves doing extractions because it's so satisfying to demonstrably purge skin of impurities. My kind of gal. The facial included an arm massage as well as a series of scrubs, masks and extractions to leave you with the facial equivalent of tabula rasa. Definitely try out the Norwich Spa at Foxwoods house brand of shower gel and body lotion as well. They're sweet-smelling and relaxing. Knowing I'd be hitting a party New Kid Donnie Wahlberg would be hosting later, I thought it prudent to have my hair blown out ($45-$55)  by a professional. Becky gave my volume-challenged strands (thanks to a recent Brazilian Blowout) glamazing oomph I couldn't have done on my own and was totally hilarious to boot. Love.


Paragon 
This restaurant at the Grand Pequot Tower of Foxwoods offers a stunning view of the forest that rivals Edward Cullen's stomping ground. Paragon's amazing seafood inspired nostalgia for the time time when New England seafood dinners were a regular part of my life. Chef Scott Mickelson's culinary delights (try the sesame-encrusted tuna) were so delish, I briefly considered returning to a life of "pahking my cah" and answering to "Ambah." 


 
Shrine
This enorm, two-story club is VERY Vegas in a good way. Let's be real with each other: We're all at Foxwoods because we all need an East Coast infusion of Vegas sometimes, right? We indulged in some bottle service and took note of fellow guest singer Kevin Rudolf and Let it Rock.
Lastly, as I mentioned previously,, I had the best experience of my 20s (this was weeks before I turned the dreaded 3-0) when I got to meet Donnie Wahlberg post-concert and take a pic with him (left, pic courtesy of Danica Lo from Racked.com). Priceless.
Book your own Foxwoods experience at Foxwoods.com.



Disclosure: Room, food and drink and facial covered by Foxwoods PR. I paid for my own blow-out.
Like this post? Don't miss another one!
Subscribe
via my RSS feed.