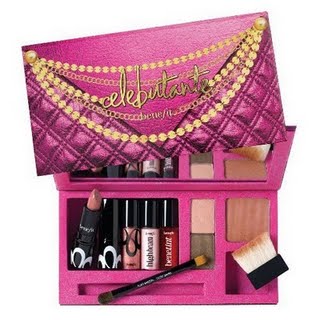 There are some gift sets with which your relashe will be shorter than 4th Avenue. You know. They contain a gloss and maybe one useful shadow shade that you'll wear to death. And then, that's it. Benefit, however, always gets it right. This whimsical brand brings utility to a new level with its Celebutante set.
A dream vacation companion, this Mary Poppins-esque kit contains:
– 0.09 oz High Beam Luminescent Complexion Enhancer (One of my ALL-TIME faves)
– 0.08 oz Benetint, Rose-Tinted Lip & Cheek Stain (rose)
– 0.1 oz Dallas, The Outdoor Glow For The Indoor Gal Face Powder (rosy bronze)
– 0.09 oz Lip Gloss in I'm With The Band (golden pink shimmer)
– 0.04 oz Full-Finish Lipstick in Lady's Choice (pinky nude)
– 0.04 oz Full-Finish Lipstick in No Competition (deep plum)
– 0.04 oz Velvet Eyeshadow in Leggy (pink nude satin)
– 0.04 oz Velvet Eyeshadow in Dandy Brandy (copper spice)
– Fluff Shadow/Talent Brush– Step-By-Step Lesson
And all for the bargain price of $34. Can you even? You can and you will. I'll just make all your decisions for you the way Monica did for Rachel in that Friends ep.
Buy it at Sephora.
Like this post? Don't miss another one!
Subscribe
via my RSS feed.