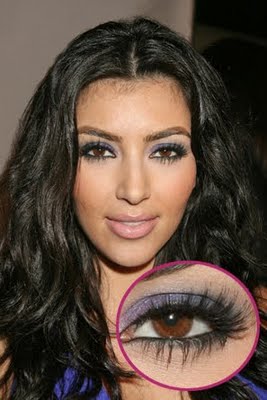 How to do a smokey eye is one of the oft-asked questions in my lifestyle, along with "can you do my makeup?" and "What is this skin issue on my arm?" It seems people frequently mistake beauty writers for makeup artists and dermatologists. I myself am pretty clueless when it comes doing a smokey eye (like Kim Kardashian's makeup at right), so I welcomed this detailed list of instructions Daily Makeover compiled, courtesy of celebrity makeup artist Jake Bailey.
"The smokey eye is usually done with black liner and eyeshadow to create a very dramatic look, but this season we're seeing more colorful versions," says Jake. Using deep, yet vibrant colors like aubergine, navy and forest green creates a bold look that makes your eyes really pop and won't give you the dreaded "raccoon eye." Here, Bailey shares his tips for mastering the trend.
Start with eyeliner. Most people apply their shadow first, but according to Bailey, starting with eyeliner helps the look last longer and makes it easier to build the color. Line the inner rim of your lower lashlines, working the liner into the lashes. Close your eyes and line the upper lashlines, pushing the liner into the lashes so there's no gap between your lashes and the line. "You want the liner to be a part of your lashes, not circling your eye," says Bailey. Use your fingertip to smudge it in.
Image credit: Zimbio.com
Like this post? Don't miss another one!
Subscribe
via my RSS feed.