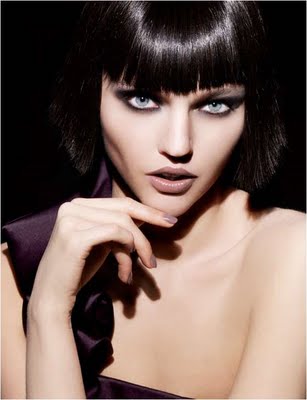 The new fall dress code for Giorgio Armani is "Greige," one of my personal fave hues. I've discussed in detail my deep and real love of all things "greige" in this post.

Manta Ray Eye Duo Palettes ($38) The star product of the season is the eye duo palette, embossed with an exotic Manta Ray pattern. Inspired by the precious and luxurious materials used in Giorgio Armani fashion accessories, the palettes offer a beautiful selection of color harmonies inspired by nature. The collection features subtle hues that offer a new take on the timeless color "Greige," create by Giorgio Armani. The rich filtered eye tones, presented in a matte Greige compact, give depth and mystery to the eyes with subtle contours and highlights.
n° 1 – charcoal and Greige: the ultimate eye shadow combination for this season's smoky eye

n° 2 – deep ocean blue and intense ocean green

n° 3 – pale lilac grey and luminous fuchsia

n° 4 – light blue stone and sandy beige

n° 5 – shimmering lilac pearl and pale green pearl
Liquid Silk Eye Liner n° 1 and n° 2 ($30) Armani Liquid Silk Eye Liners in matte charcoal grey or midnight metallic blue contrast the softer Greige tones with a smooth high precision stroke. The formula, which contains microdispersed waxes and micro-fil™ polymer, boosts the deep intense color and ensures a long-lasting, quick-drying application.
Armani Silk Lipstick n° 92 ($25) This season's must-have Armani lipstick accentuates the natural lip color, keeping the focus on the eyes. The grey-blue tones in this soft plum lipstick add intensity to the lip without giving a dark contrast, the new alternative to beige. The Armani Silk lipstick formula dresses the lips with a hydrating and silky veil. Specific oils allow the shade to reveal intense and radiant color, resulting in a luminous blush on the lips.
The "Greige" Eye Look by Linda Cantello "Eye shadow is about shading. Rather than adding shadows, these muted tones contour and define, accentuating the eye and the pupil; the focus is actually on the eye itself. My favorite is the Greige and charcoal duo shade palette, but the pale lilac grey and fuchsia offer a really beautiful pop of color."
Application Tips:
1. Use the Greige shade to contour the eye by sweeping the shadow along the crease of the eye. Follow by sweeping the shade under the lower lash line and over the upper lash line. Use charcoal to add intensity.
2. A second option is to sweet the charcoal shadow over the whole lid and use the Greige to blend. For added intensity, apply midnight blue eyeliner along the upper lid lash line.
The Giorgio Armani Beauty Fall 2009 Collection is available online at www.giorgioarmanibeauty.com and at fine department stores, including Saks Fifth Avenue, Neiman Marcus and Bloomingdales.
Like this post? Don't miss another one!
Subscribe
via my RSS feed.