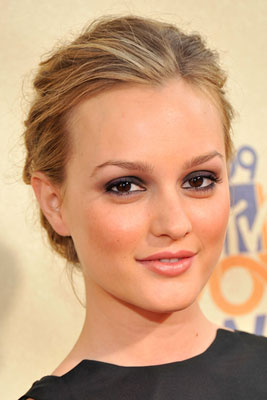 COVERGIRL makeup artist Molly R. Stern reports the deets on how to achieve Leighton's gorge smoky eye. Whilst her outfit left something to be desired for sure (her hair didn't thrill me either), her makeup was to die.
Molly R. Stern: Leighton's look was sexy with an edgy feel. She wanted to look like herself while celebrating the rock 'n roll spirit of the night. I started by basing her skin with Cle de Peau's new cream foundation in O20. For her blush I used Shiseido's Accentuating Powder Blush is Glistening Brown. On her eyes, I based them with Vincent Longo's liquid eyeshadow in Midnight Mauve. Over that, on the inside lid into the crease, I dusted NARS Night Clubbing glittery powder eyeshadow. Inside her eye both bottom and top, I lined her eyes with COVERGIRL Exact Eyelights Brightening Liner in Vibrant Pearl (NEW from COVERGIRL, hitting shelves in late July!!). Her mascara is COVERGIRL LashBlast Luxe in Black Emerald. And to finish the look, she is wearing COVERGIRL Outlast Lipstain in Cinnamon Smile.
What do you think? Tell me in the comments!
Like this post? Don't miss another one!
Subscribe
via my RSS feed.