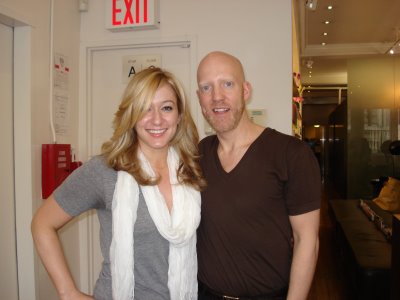 Jason and I pose post-highlights sesh at the Ted Gibson Salon.
So not be narcissistic? But I freaking love my hair. AND the best part is that you can love yours, too!
Jason Backe
, head colorist at the
Ted Gibson Salon
, has so generously offered BBJ readers
25% color off with him when you mention you're a BBJ fan!
Can you even?
Contact info for the salon is below.
So, after three years of near-natural color (dark blonde), I'm glad to be back to SFB (that's "super fucking blonde," to quote the hilar Jason). Click here to see a before pic taken earlier last week. I ran into Jason on Thurdsay night at a party at the Gansevoort Hotel celebrating the launch of InStyle's new Hair Special Issue. The Hair Issue is pretty phenom BT dubs, girls. It's packed with TONS of tips from major movers and shakers in the hair industry (like my other hair boyfriend, Ted Gibson, por ejemplo). Anywhoodle, when I ran into Jason, he was like, "Are we going SFB, or what?" At first, I was kind of hesitant because of the whole roots thing… I've grown to just LOATHE them. But it's summer. And who am I to argue with a celeb colorist who's worked on such mage hair as that of Anne Hathaway and Renee Zellweger? Exactly.
It took about three hours from foil to blow-dry, but it was SO worth it. I hadn't had a full head of highlights in YEARS. Jason used three colors of highlights (for variation) and then painted on a "mini-lift," which is a sort of single-process to brighten up the base. He then dried the top section and added just five "the bitches are gonna hate you" highlights around the hairline. Do you love it?
I'm actually stunned by how shiny my hair still despite its super-light status. On my hair, light and shiny have always been mutually exclusive. Not anymore! Stylist Jan is responsible for the uber-shiny blow-out, BTW. I also feel less pasty/copy-paper white and I even feel like my lips are more visible or something, thanks to the contrast with my hair. I don't feel as if I need to apply gloss every minute on the minute anymore, as I did when my hair was darker. Make an appointment with him IMMED if you live in NYC. And don't forget: a single-process with Jason is only $75 if you take advantage of the salon's Recessionista Tuesdays special.
Ted Gibson Salon
184 Fifth Avenue, 2nd Floor
NYC
212.633.6333
Jason, MWAH!
Like this post? Don't miss another one!
Subscribe
via my RSS feed