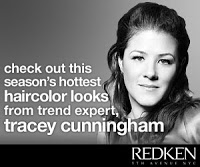 Redken recently hosted a select group of bloggers in NYC for an event with Redken's Creative Consultants for Color Tracey Cunningham (pictured, left) and David Stanko (pictured, below) to tell us all about the brand's new collections for summer.
PS? Tracey's hair is the most gorge auburn color I've ever seen. Even better? It's NATURAL. You and I both know I asked. A colorist with the most phenom natural color. It's almost poetic.

"People have not given up on their hair color. You take shoes off but not your hair," Tracey told us. "They're making sure their hair color is in good condition–even in this economy."

Though roots remain a losing battle, blonde color requests still reign supreme. "You want the blonde to frame the face for a brighter effect," explained Tracey. But Tracey maintains that you need to have the right base shade to go blonde. And only a select group should go Cameron Diaz circa 2002 blonde.
If your hair is darker, she suggests going red. Hollywood redheads Isla Fischer, Amy Adams and Lindsay Lohan have inspired the masses to get in touch with their inner redheads.

Proper shampoo and conditioner is the most important thing: make sure you're saving the integrity of your color. Fading is inevitable, but these protectant agents help. "When you lose the color, you want to get your hair done," Tracey mentioned. "You can go longer between salon visits when you use the right conditioners."
Speaking of salon visits, David Stanko told us that the redkencolor.com houses a hair glossary so you can study pre-appointment. Genius! No more "you think THAT'S caramel?" conversations. Color terms mean different things to different people. This site's aim is to streamline the process by educating the consumer and hairdresser.

"Blondes don't have as much pigment," David told us. "So they're more susceptible to dulling and fading." David then went on to give us an overview of the new collection. Check the details below.

The Blonde Glam Collection includes:
Haircolor: Color Fusion 12Av, 9Av, 7Av; Double Fusion Blondes Titanium; Double Fusion Browns Titanium; and Shades EQ 07V Crushed Amethyst, 08V Iridescent Quartz
Lighteners: Blonde Icing Power Lift and Ammonia Free
Haircare: Blonde Glam Perfect Platinum Color Enhancer and Blonde Glam Rich Vanilla Color Enhancer
The Blonde Glam Haircolor Collection targets colorists and clients who are looking for the perfect cool blonde. These shades can be used on dark to light bases to create the most gorge blonde tones that are vibrant during the day and pop at night. Designed to create every type of cool blonde from icy platinum blondes to cool dark blondes, the Blonde Glam Haircolor Collection gives colorists the resources to refresh cool blondes, tone down warmth, and lift high and add cool tones.

NEW COLOR FUSION ASH/VIOLET SHADES

The Ash/Violet color family has been reformulated to be even cooler than before – matching the trend of cool, icy-blondes. These shades include:
12Av: Creates ultra pale cool blonde

9Av: Creates very light cool blonde

7Av: Creates medium cool blonde
NEW DOUBLE FUSION TITANIUM SHADES
Available in both Double Fusion Browns for darker bases and Double Fusion Blondes for lighter bases, lift high while infusing hair with icy-metallic hues for optimized control of warmth when lifting.
Color Fusion Double Fusion Blondes New T: Creates metallic, cool light blonde

Color Fusion Double Fusion Browns New T: Creates metallic, cool brown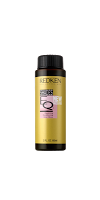 NEW SHADES EQ VIOLET SHADES
David says these are like top coat for nails and lip gloss for lips. Redken is expanding the VIOLET family into levels 07 and 08, the new VIOLET shades add condition and shine to any cool blonde while controlling unwanted yellow tones. New shades offerings include:
08V (Iridescent Quartz): Creates light, cool blonde

07V (Crushed Amethyst): Creates medium, cool blonde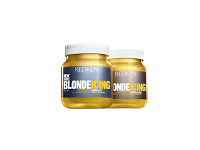 NEW BLONDE ICING POWER LIFT
Gals who desire fast and powerful lightening ability can now experience the new Blonde Icing Power Lift, which provides conditioning lightening ability for all bases and hair types. Blonde Icing Power Lift features faster and higher lift, better conditioning with exclusive Lumisilk Technology, and a new, creamier formula. Per David, it mixes to a cake frosting consistency. "Blonde can go south on you looking dry," David noted. "This product has lots of conditioners to counteract that for clean and clear blonde looks."

AT HOME HAIR CARE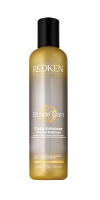 As an extension of the Blonde Glam haircare, the NEW Blonde Glam Color Enhancers allow you to achieve the most stunning blonde from start to finish, reviving drab highlights and revitalizing blonde hair. The lightweight gel and cream formulas deliver an even distribution of color enhancing pigments and intense conditioning and strength without weighing down even the finest of blonde hair strands.
Blonde Glam Perfect Platinum: designed for consumers with ultra-pale to light blonde hair or highlights who wish to keep their cooler blonde strands from turning brassy.
Blonde Glam Rich Vanilla: designed for consumers with warm blonde hair or highlights who wish to keep their locks on tone.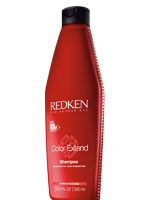 The COLOR EXTEND COLLECTION has been reformulated with Cranberry Oil for extra conditioning properties.
• Color Extend Shampoo: Gently cleanses while providing anti-fade protection, increased vibrancy and shine to color-treated hair.
• Color Extend Conditioner: Detangles and provides protection from fading agents while restoring color vibrancy.
• Rich Recovery: Provides anti-fade protection, improved manageability and intense replenishment to color-treated hair.
• Total Recharge: Detangles, strengthens, and reinforces the cuticle while revitalizing color-treated hair with powerful protection and radiant shine.
• Shine Enrich: Helps protect haircolor while helping to seal split ends, smooth fly-aways, and
impart mirror-like shine.
Color Extend is available now
Blonde Glam Haircolor Collection will be available in April 2009
Blonde Icing Power Lift will be available in May 2009
Blonde Glam Color Enhancers will be available in June 2009
Visit redken.com for authorized retailers.