Remember the campiness that is this scene?
I say it every time I hang up my dry cleaning in my closet.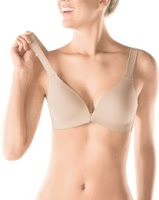 Anywho, I went wireless with my Internet with a lot less intrepidation than I did my bras, initially. When I heard about Spanx Bra-lellujah! Wireless Front Closure Bra ($62), I thought, that sounds lovely. For gals with A-cups. I'm toting some Cs and the girls need wire. Spanx, I stand corrected. When I wear this bra, there is no difference from the standard Bra-lellujah other than with respect to the comfort my ribcage feels. There's no lack of support at ALL AND the garment maintains its guerilla war on backfat. LOVE. Well done, Sara Blakley!