TGIF and happy almost Labor Day! Labor Day is kind of depressing (no more white pants till May 2009!) but I think September in New York is the absolute most gorge time of the year here. In September you can FEEL the energy of new beginnings (I'm forever on a school year schedule – mentally, anyway– despite the fact that I haven't been in school for six years.) Here are my fave beauty items (specifically of the in-shower ilk) of the week to get you through the final beats of the summer!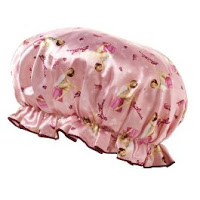 Benefit Bathina Shower Cap ($16): This is a tip that might be totes obv, and if it is, ignore me. Here's the situ: I wash my hair every other day. On the days I don't wash my hair (and I shower at night 80% of the time), I rock a shower cap BUT, was somehow waking up every morn with raging curly BEDHEADNESS… JUST on the underneath part of my hair close to the roots. Weird, right? I thought maybe I was some kind of weird sleep sweater. Except I never felt hot. So anyhoodle, one day it occurs to me: I don't take pains to really secure my cap around my hair, ensuring that water doesn't seep through the bottom part of my hairline. I'd simply wash my face in the shower, shave my legs, etc… without pulling the cap sufficiently around my hairline. Dumb, right? Well, the adorable Bathina cap is adorned with precious little pinup girls and is large enough in diameter to make certain your hairline will stay SAHARA dry. Waterproof and fully lined. "Bathina knows… the higher the hair, the closer to heaven!" Oh, and another fab Matthew James tip: to smooth out baby hairs around the hairline when blowing out wet hair, (or bedheaded-up strands) just use a fine-toothed comb to lift hair up and stretch it out so that nary a curl can form.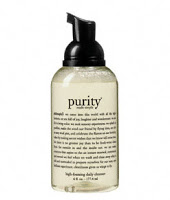 Philosophy Purity Made Simple High-Foaming Daily Cleanser ($22): I know it's stu… but I feel like my skin gets cleaner when I use a foaming cleanser. I still use those that don't bubble up… but it's not quite as satisfying. Most satisfying of all are the ones that foam up directly out of the nozzle. Which is why Purity Made Simple is doing mage shower rotation right now. It rinses super, super clean and leaves my skin refreshed and cleansed… never tight or dry. Makeup dissolves in its wake.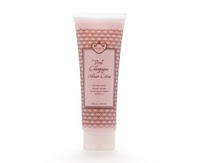 Jaqua Pink Champagne Shower Cream ($18): Jaqua products are guilt-free decadence. This creamy-to-the-nines lathery shower accoutrement smells luxuriously festive. It's the perf non-seasonal scent.
What's in your shower rotation? Tell me in the comments section!