Gals, just an FYI, I'll be out of commish toward the end of the week as I'll be at The Atlantis in the Bahamas for my friend Amber's wedding which occurs on Saturday, June 7th, The Day Formerly Known as My Birthday. Fun fact: three of my fave dudes, Prince, Allen Iverson, and Michael Cera (of Superbad and Arrested Development fame) also share my birthday. I've decided since I haven't really celebrated it for the past two years due to weddings I've been in, (and someone is vying to book me for the denouement of my twenties' birthdays – my 29th next year), that there is a silver lining, and it's that I'm actually 26 still. So like Patsy of Ab Fab, who says she's somewhere within the range of 39-43, I will be 26-28 as of Saturday.
So, I'm leaving on Thursday morning to start the festivities! My friend Stephanie and I have plans upon arriving at The Atlantis to go on the waterslides and relax on the hotel's Lazy River. I LOVE A LAZY RIVER. The wedding will take place Saturday evening and I'm rocking a pretty gorge yellow knee-length non-vomitatious (thanks, Amb) bridesmaid dress with some ivory/bone shoes. Dolls, I've been waiting for a good yellow dress opp to channel one of my favorite looks of all time, The Michelle Williams Oscar Moment of 2006. Check it: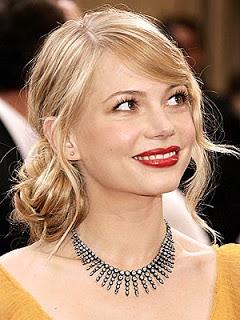 Posts will be few and far between Thursday and Monday, but rest assured I'll be back with photos and a rundown of all the products incorporated for my Michelle Williams 2.0 look once I return. Any suggestions on how to recreate her makeup? Right now I'm thinking Stila Cherry Crush, C.O. Bigelow Mentha Lip Shine in 1138, Bobbi Brown Long-Wearing Gel Liner in Espresso and some kind of shimmery pinkish-peach shadow. Tell me what you think in the comments.
Click here to enter Total Beauty's contest to win a Saturn Vue Hybrid.