Don't leave home without it.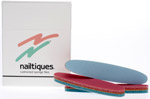 Nailtiques' Pink & Green Sponge Files are a little piece of preppy paradise. These itty bitty files work like a dream and are the most adorable size – perfect for carrying in your purse. I am living for its packaging/marketing concept. Instead of one enormous file, you get 10 mini ones. Large files are great for home… but who the hell wants to cart around a big fat file on the go? Not I, friends. The spongey core lets you smooth ragged edges with the quickest of ease. $5 for the pack of 10.
In other news, I have a pretty packed weekend. I'm working on a freelance beauty article for a mag, having brunch with my fab friend Stacey, entertaining my parents and two grandmothers who will be in town, and attending a rooftop shindig. Hope whatever you have planned this weekend is fab as well!
xoxo,
Fabulista