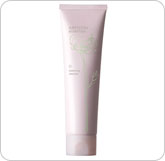 Have you been introduced to Artistry Essentials yet? The line was created for women whose beauty routine is quick and efficient (that's you, right?). It includes formulas for ALL skins. Of late, I'm loving their Balancing Cleanser. Intended for combination-to-oily skin, it cleanses, clarifies, and mildly exfoliates (sans scrubby particles, its formula is designed to slough off dead skin cells). My sensitive skin is LOVING the lack of oil in its lifestyle (I no longer need to use a separate product to combat T zone shine) and my skin really is clearer.
Buy it here for a pretty economical $14. Discovering this stuff was almost as fantastic as discovering Michael Vartan is a Jew. JJ Abrams, creator of Felicity, Alias, and LOST, really knows how to create the perfect male character, doesn't he? I wonder about him because you know, our characters are based on ourselves. Alias' Michael Vaughn embodies every delish characteristic of my all time fave, LOST's Jack Shephard. The only downfall is that neither of these people exist in real life.
Happy New to you! I'm off this Sunday to ring in 2008 at my friend Chopin's Poconos house. I'll be back pre-2008 with my annual Favorite Things list, lest you worry. Oh, AND. Get excited for Smooth Operator Week! Yes, friends, it's true. I'll be discussing my favorite shave gels, creams and hair removal paraphernalia. One adjective that will not describe 2008 is hirsute. Shaving is totally boring, but having fun tools with which to do the job makes it all the more appealing, n'est-ce pas?
P.S. I saw a sneak preview of 27 Dresses last night but it was, unfortunately, inconsistently good. Do see it for the Bennie and the Jets scene, though. I'd like to personally thank the writer responsible for that scene and calling us out collectively on not knowing the words to that song. Reason number two to see it is Ed Burns. Does he not have the most PHENOMENAL voice? I'd hire him to read me the phonebook. Just saying.