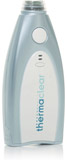 You and I both know that products claiming to be "zit panaceas" are as common as teachers and speech pathologists in the New York dating pool. I recently had the opportunity to try out ThermaClear's Acne Treatment Device and it does work, dolls. It's a small, handheld medical instrument that delivers a quick shot of heat to zits, eliminating them in 1/3 of the time (for me). I felt very Jetsons the first time I used it, you have to press on one of the smaller buttons to turn it on and off and it makes a little beeping noise, then you put it on your face, press the larger button and you'll feel a tiny bit of pain, kind of like a hot pinprick for a second. And that's it. You're done. I used it on a zit that would have taken a week to clear, and instead it's already nearly gone after 2 days.
In other news, I've finally gotten around to purchasing my September Vogue (I've been collecting September Vogue since 03). It's ENORM. 840 pages of delish fashions. In fact, the mag is so heavy, I can't do my ush nighttime reading, lest I hurt my stomach from resting the Vogue volume on it.
Have you tried ThermaClear? What did you think?