Ben Skervin for Fekkai created Jennifer Garner's baller 'do to compliment her Versace dress. "Jennifer's dress has an architectural feel with strong lines, so to complement this, the hair is up to show off the neckline as a modern ode to Grace Kelly. Our goal for the hair was lots of undone texture, nothing too tight or severe," Ben said. Here, the beauty breakdown.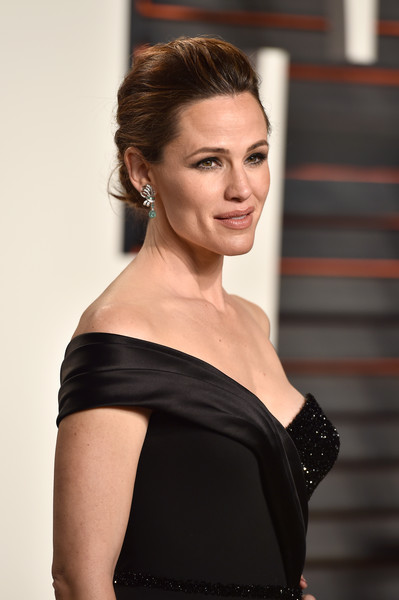 "On wet hair, apply a mixture of Fekkai Blowout Primer and Fekkai Full Blown Volume Lightweight Styling Whip. With these two products, you achieve a great fullness but also a nice hold in the hair throughout. Then, blow dry the hair smooth with a large round brush. Once the hair is dry, use a 1-inch curling iron, taking 1-inch square sections and spritzing Fekkai Sheer Hold Hairspray on each section as you go along for hold.
Wrap each section around the curling iron like a wand, making sure to curl the ends under. Then, brush out the hair thoroughly for a beautiful soft wave. Spray Fekkai Blowout Hair Refresher Dry Shampoo at the roots for extra texture, to achieve a 'lived-in' feel. Pull the hair straight back into a ponytail just above the nape of the neck, tying with a bungee elastic to keep the shape of the ponytail intact.
Then, back comb the ponytail for a "lived-in" texture. Twist the ponytail and wrap all the way around the elastic and pin with a combination of straight and V-shaped bobby pins. Finish with Fekkai Sheer Hold Hairspray for light hold."