Celebrity makeup artist Coleen Campbell-Olwell create a subtle shimmery eye look for Kate Mara for the 20th Century Fox press line at ComicCon on Saturday. Here, she shares how to get the look.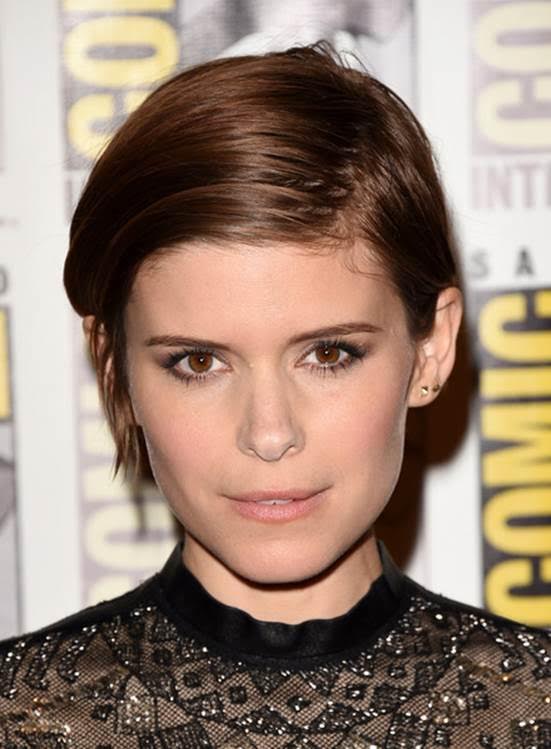 "I started by moisturizing Kate's skin with Orlane Super-Moisturizing Light Cream.  Making sure to really moisturize the skin is super important for this kind of glowy, dewy look that we wanted to create.  I used my fingers and massaged the moisturizer into her skin in circular motions.  I applied two layers to make sure her skin was really hydrated, this way everything that we put on top looks that much better.  Then, I patted the Absolute Skin Recovery Eye Contour under her eyes with my ring finger to take down any puffiness.
Orlane Teint Absolu treatment foundation in #11 gave Kate's skin a really beautiful finish, not too heavy.  I warmed up the product on the back of my hand, stippled it onto the skin using the fat end of a dampened beauty blender, and used the pointed side to stipple just under the eye.  I went back with a bit of concealer just where I wanted more coverage.
In Multi Soleil Pressed Powder (available Fall 2015), there are three beautiful shades of bronzer and a pinky toned blush.  The three bronzer shades definitely give you options depending on what skin tone you have.  To contour under her cheekbones I used a medium, fluffy dome-shaped brush and the medium shade bronze.  This type of brush and size allows you to be more specific for contouring.  Then, using the same brush and the lighter bronze color, I dusted around the perimeter of her face to add more depth.  On the apples of her cheek, I applied the pinky toned blush in a tapping motion to create a gorgeous, natural glow.  Lastly, I used Orlane Highlight Care Brush along the top of her cheekbones to provide a subtle highlight.
For her eyes, I didn't want any heavy liner; we went with a green accent and warm brown tones.  I used Make Up For Ever Green Aqua thick chubby pencil along her top lash line and smudged it out, then used warm brown tones from the Lorac Pro Palette second edition to warm it up.  I really wanted her mascara to pop, so I used Orlane Volume Care Mascara which is truly my favorite – I use it on all of my clients! Kate's lashes have natural curl to them so we didn't need to curl them and the mascara did the rest!  I took the brush and made sure it was evenly coated with formula.  To give darkness and depth to the root of her lashes, I used my opposite thumb to lift her eye slightly and then wiggled the mascara brush into the roots.  It really does the trick and lengthens the lashes without having to work too much at it and without leaving any clumps.  I did the same with her bottom lashes.  A lot of mascaras I find will fade throughout the day, but the Volume Care Mascara lasted from morning to night (a 12 hour day!) and I didn't have to touch it up once.
To finish off the look, I created a soft, peach lip to keep the focus on the eyes and her gorgeous, radiant skin."
Super light and pretty, no? Tell me what you think in the comments.