Katy Perry's halftime look was fierce A.F., no? I'm still thinking about that glittery eye and luckily, I have the details on that and on her perky ponytail. Celebrity makeup artist Jake Bailey did the makeup honors and Clyde Haygood created her hairstyle. Here, the details on both, from Jake and Clyde, respectively.
MAKEUP
"Katy's performance had multiple costume changes so I needed to create a strong look that would complement all of her outfits, as there was absolutely no time for a touch up in between the quick changes. It's the Super Bowl after all! I decided to go with a classic Katy look — elongated cat eyes, lots of mascara, super sparkly gold and silver glitter, and a bold red lip for glamour and showmanship. I wanted her to glow and sparkle for her big moment in just nine steps!
To create a sheer and flawless canvas I began by buffing a dime size amount of COVERGIRL Outlast 3-in-1 Foundation in Natural Beige all over her face and neck.
For an elongated cat eye I used COVERGIRL Perfect Point Plus Eyeliner in Black Onyx and painted a glitter adhesive just above the black liner and carefully placed a mix of gold and silver glitter on the adhesive with a tiny eyeliner brush for precision.
Then I applied COVERGIRL Eye Shadow Quads in Blooming Blushes to add warmth and dimension. I love this palette because it takes the guesswork out of getting gorgeous eyes, it has number for the shades – 1,2,3,4 – so I know just how to apply! I used the fourth shade to define the crease and the first shade to highlight the lids.
I finished the eye look with an aggressive lash curling and two coats of new COVERGIRL Full Lash Bloom by LashBlast Mascara in Very Black that left her lashes voluminous and touchably soft throughout her performance! No time for flakes during this performance.
To give her brows shape and structure, I added COVERGIRL Pow-der Brow + Liner in Dark Brown.
For extra dimension, I warmed her cheeks using COVERGIRL Clean Glow Blush in Roses using the lighter shades on the apples of her cheeks and the darker shade in the hollows of her cheeks
Then I added COVERGIRL truMAGIC Luminizer to her cheekbones and brow bones for a shimmery glow. 
Moving on to the lips, I lined and shaped her lips using COVERGIRL Lip Perfection Lip Liner in Hot. I then applied a coat of new COVERGIRL Colorlicious Lipstick in Seduce Scarlet – truly a classic red, for a classic Katy look.
I topped it off with a tiny dollop of COVERGIRL Lip Lava in Mauva Lava for a fun and bold lip look!"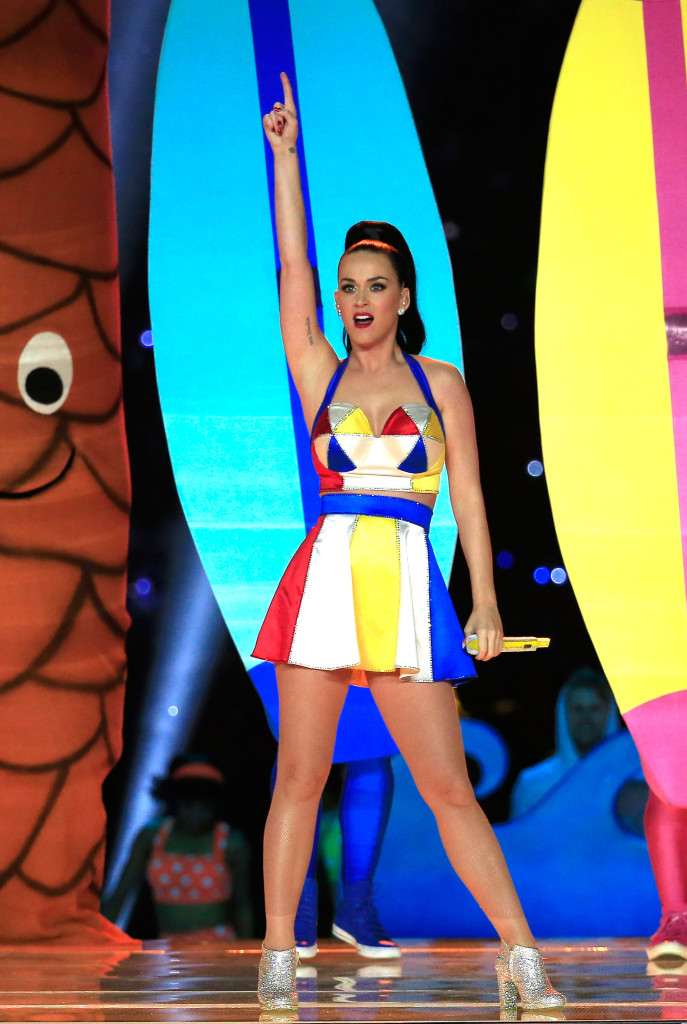 HAIR
"Katy specifically asked for the perkiest pony you've ever seen!" Clyde created the pony with extra bounce so it went with the choreography and allowed Katy to helicopter it around while performing with Lenny Kravitz. The ponytail was constructed using a human hair Velcro pony with hair in various lengths sewn onto the inside and outside for added volume. With the added weight, in ordered to create a comfortable support system, Clyde sewed an elastic band to the base on the inside of the pony and put a toggle closure to make the ponytail retractable and actually open and close around Katy's own hair.
To set the ponytail, first Clyde took five 3-inch sections and curled them with a 2-inch iron to create an "S" wave. Each section was sprayed with KMS California FREESHAPE 2-in-1 styling + finishing spray ($20.99) before curling. Clyde used this spray because it's heat activated and perfect to use with irons for setting dry hair. It also brushed out beautifully giving him the bounce he wanted for the performance.
Next, Clyde worked on slicking Katy's own hair back with his "go-to" gel product, KMS California HAIRSTAY styling gel ($16.50). This gel has impeccable hold and gave Clyde the glass-like shine he wanted for Katy's hair. 
Once the ponytail was attached Clyde took a small amount of KMS California HAIRPLAY gel wax ($19.75) into the palm of his hands then top-coated Katy's pony to tame any flyaways and give added support to the style. Clyde likes this product because it has the hold of a gel, yet has flexibility and lets hair move naturally.  
What do you think of Katy Perry's performance last night?