This week, Official Mascara Correspondent Ashleigh Ciucci lengthens her lashes with Bobbi Brown's Pretty Powerful Mascara ($25), a cosmetic for a good cause! Here, Ashleigh's review.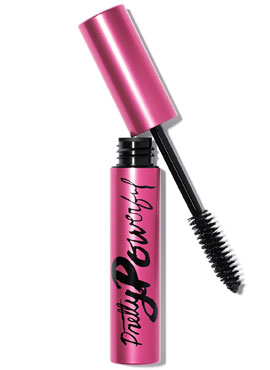 Bobbi is known for her pursuit of natural and easy beauty. With that in mind, I approached this review with an open mind; I knew I wasn't going to be walking out of the house with a spider-like false lash look. This mazzie is super straight-forward with a medium-sized tapered brush.  The brush doesn't hold a lot of product so one coat is very very soft with minimal transfer.  I found that the brush didn't give me much control over my lashes when it came to coaxing them into a desired shape but they looked feathered and flirty.
When I applied my second coat, it was almost as if coat one was like a primer; the mazzie gripped better here and was the effect of a "first coat." My lashes were left separated, slightly curled and lightly tinted.  This is a really great first mascara for a teen or for pale blondes who don't want dramatic lashes.
As a side note, the proceeds of this limited edition mascara go to Brown's Pretty Powerful Campaign, which provides funding for women's education resources.  This is a simple mazzie for a good cause.
—Ashleigh Ciucci