This post is sponsored by Venus, but all opinions herein are my own. This article also appears on gillettevenus.com. 
On a trip to Greece I took this summer, I accidentally packed my razor, but tragically, not my razor blade. In my haste, I'd forgotten to do a roll-call of all my toiletry items to be replaced after my last jaunt. Catastrophe, obviously. I could not be stubbly in Santorini. I wound up having to locate a drugstore on the tiny island and pretty much mime that I needed to buy a razor as the shop owner did not speak much English. The lexicon for shaving was, alas, not high on his list of foreign language vocabulary words; also, per Gillette Venus' survey of women globally, 83% of women travel with a razor, so perhaps he hadn't run into such a forgetful American voyager recently. I purchased a serviceable Venus Daisy disposable razor that did the job (although it cut my legs up a bit more than my trusty Venus Embrace). And I learned from the experience: Keep a razor (blade and handle) in my toiletry bag at all times and be scrupulous about ensuring it's replaced at appropriate times.
Tips For Travel And Shaving On the Go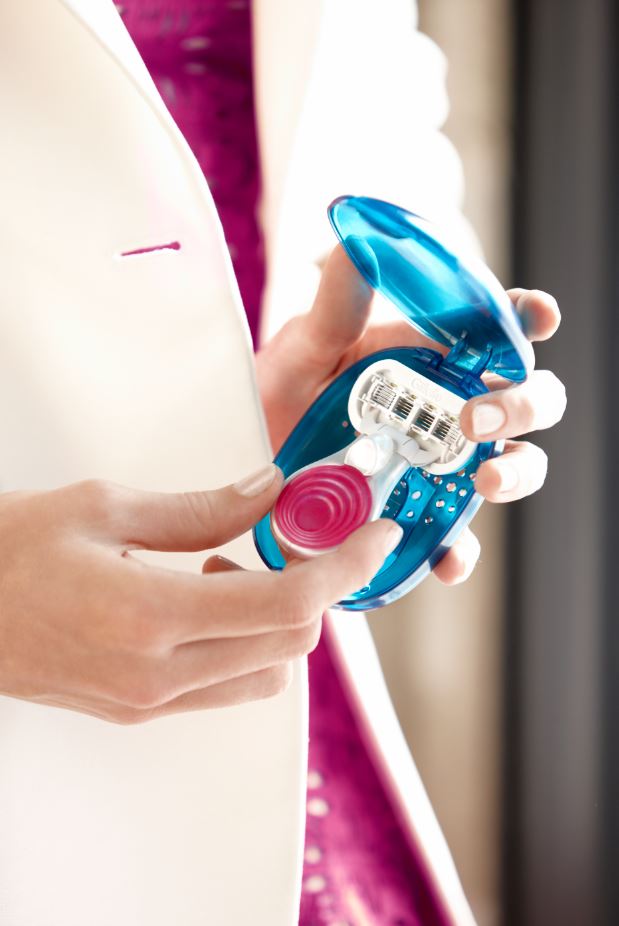 The key to looking good on the go is being massively prepared. This tip applies to all jet-setting ladies. After all, they lead a glamorous life–they never know where a business or pleasure journey will take them. Whether vacationing or traveling for work, living life with two carry-ons is both a science and an art. I travel at least once a month and have edited my toiletries down to the essentials. Here's what I've learned are the essentials you need to keep on you to spruce up in a snap, whether your spontaneous adventure is in your own city or a far-flung exotic locale.
One of the most vital beauty necessities is wipes of all types. Keep some on you to help you freshen up on the go, remove makeup pre- or post-workout, clean up migrating mascara or even your hands when you spill something and aren't near a sink. SPF wipes make for simple reapplications at the beach or pool, even if you're flying solo. Self-tanning wipes won't annoy airport security and they'll help you achieve a healthy glow before you don your bathing suit.
Whether self-tanning or slathering on the SPF, gleamingly smooth gams are the best accessory and pair perfectly with your go-to sundress. Nothing assassinates a perfectly executed sultry look than uninvited stubble to your leg party. In fact, 57% of women surveyed have felt self-conscious about their unshaven legs while out/on a date/at work.
But rejoice, jetsetters, because bulky hair removal paraphernalia need not be included into your packing strategy. Finally, you can lighten your load with the new Venus Snap, which boasts all the convenience of your regularly scheduled razor, including the same Embrace blade, but with a short handle and compact case for perfect portability. No more hastily shaking out a wet razor and risking the mess and the hazard to your hands by tossing it into your makeup bag; this one comes in its own natural habitat. What the Snap lacks in length it makes up for in utility: It boasts a soft-grip gel handle for increased control when wet and still accommodates women's curves with ease. Trust me, gals: When you find yourself in a shaving emergency, you don't want to resort to reaching for your gentleman's razor (in this instance, sharing definitely isn't caring). When too many rushed mornings led to me missing out on a few last minute urban adventures because I skipped my in-shower shave in lieu of grabbing my morning latte, Venus Snap made its way from my travel toiletries to my purse makeup bag and hasn't left since.

A stain removal stick like the Tide To Go pen is always a staple in my purse to avoid condiment-covered garments.
Another multi-tasking must is a clear balm to eradicate most beauty emergencies ranging from dry ends to unruly brows to chapped lips. You can even apply a little on your cheekbones for a subtly lustrous summer glow.
No matter where the home-base for your secret emergency stash (desk at work, gym bag, in your carry-on bag or even in your purse–especially throughout the summer months), I wouldn't be caught without these. With Venus Snap joining your on-the-go essentials, you'll never be relaxing poolside and notice That One Giant Hair By Your Ankle That You Missed ever again. Now everything is fixable, and super conveniently – glam gams on the go.