Staying moisturized in the winter is a full time job, mostly because there is so much to think about it- head, shoulders, knees and toes doesn't even begin to cover it. What about cuticles? Elbows? Lips? Here's my winter survival kit: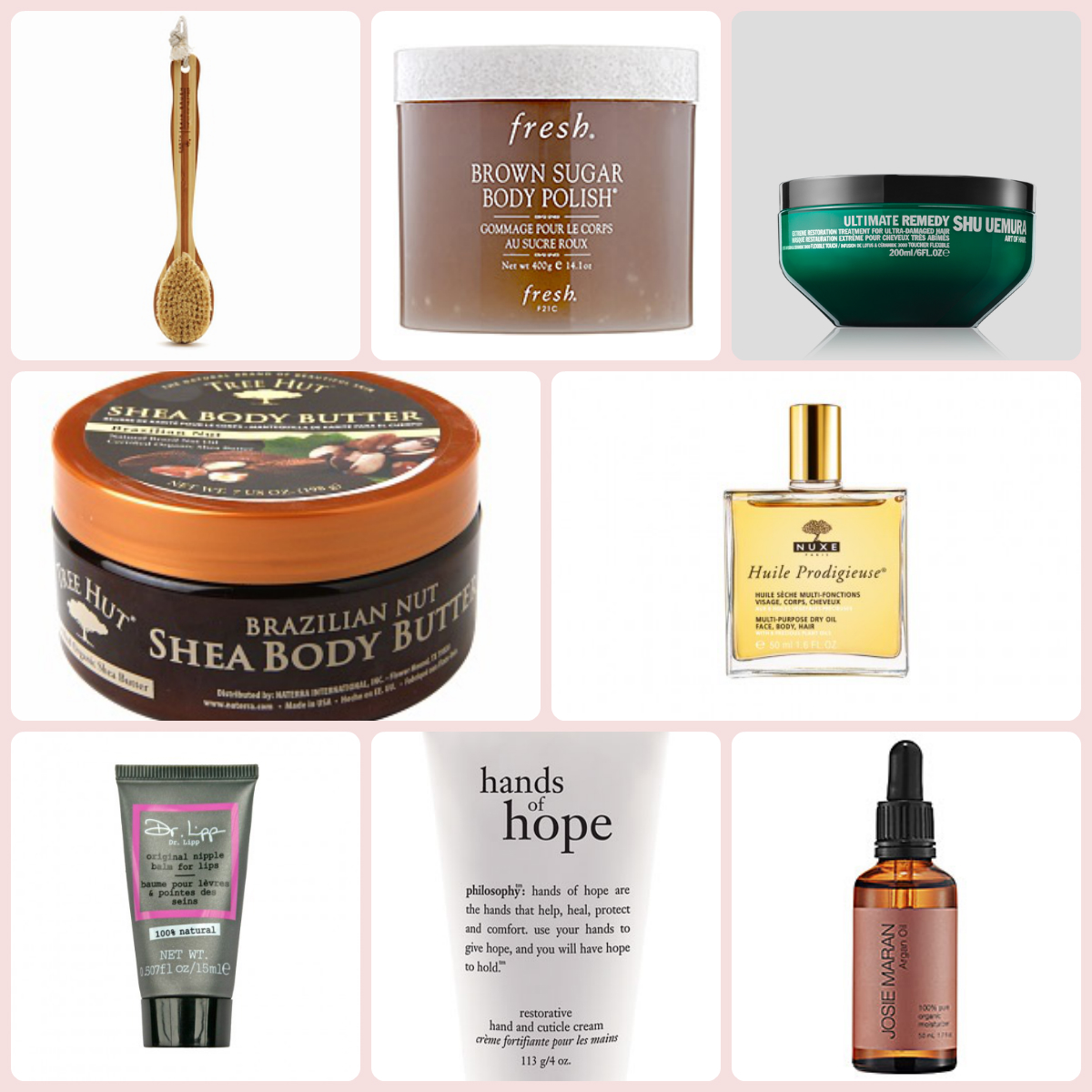 Dry Brush: Use this before every shower and not only will you be getting rid of dead skin cells, but you'll also be boosting circulation and lymphatic drainage –ultimately ridding the body of toxins ($10)
Fresh Brown Sugar Body Polish: I only like scrubs that leave skin really soft and oily. No I didn't say greasy, I said oily. There is a difference, trust ($38/$65)
Shu Uemura Ultra Remedy Hair Mask: This is for ultra damaged hair, but by subjecting our hair to blowdrying, straightening, curling, top-knotting and most importantly, freezing weather, I think we can all benefit from this super-rich mask ($68)
Tree Hut Brazilian Nut Shea Butter: I still have my long time lotion love but I'm not going to lie: this stuff rocks too. And it's half the price, which adds up when you're slathering it on twice a day ($8)
NUXE Dry Oil: If you're in a rush a few sprays of dry oil will do the trick ($29)
Dr.Lipp Nipple Balm: Despite the name, most people use this on their lips. But hey, I don't know your life ($15)
Philosophy Hands of Hope: This week in New York was so cold that my hands were cracked and dry even though I wore gloves! This cream was my salvation ($10/$20)
Josie Maran Argan Oil: Clarisonic + this oil = skin that glows. I have a theory that argan oil fixes everything ($14/$48/$96)
Follow Julia on Twitter: @Julia_Casella.