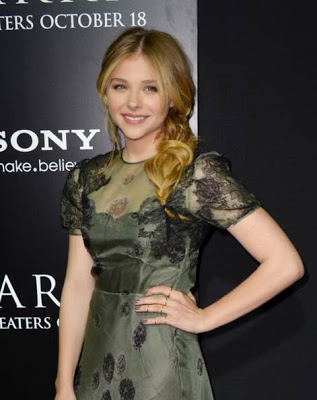 Celebrity makeup artist Mai Quynh created this softly pretty makeup look for Chloe Grace Moretz for the premiere of Carrie last night using Talika products. Here, the beauty breakdown, courtesy of Mai. 
"For the premiere of 'Carrie' tonight, Chloe is wearing a short-sleeved, floor length Valentino gown that is a mossy/taupe green color.  It's really soft and kind of bohemian so we wanted to keep the look really young and fresh.
I like to start off my makeup ritual by using Talika Eye Decompress. I applied the decompress over Chloe's eyes for 10 minutes while her hair was being prepped, this allowed enough time for them to soak in and soothe the skin around the eyes.  Then, I dispensed 3-4 drops of Talika Huile Vitale into my palm and patted it onto her face to moisturize the skin.  I used Talika Cream Booster to massage the Huile Vitale into her skin, this device helps any skin care product penetrate deeper and work more efficiently so her skin stays hydrated.
Once her skin is prepped, I applied Diorskin Nude Skin-Glowing Makeup SPF 15 in Crème 011, using a foundation brush.  I added concealer under her eyes and wherever needed, then set her face with a sheer loose powder, brushing it on her forehead, cheeks and chin.  For Chloe's cheeks, I swept Chanel Joues Contraste Powder Blush in 68 Rose Ecrin.  I applied the color to the apples of her cheeks, blending it outward towards her ears.
For her eyes, I first curled her lashes with Talika Heated Eyelash Curler.  I love this eyelash curler because the heating feature guarantees that the lashes will stay curled, even after applying mascara. I applied a shimmery bone eye shadow to her lids, then a soft bronze eye shadow to her outer lid, blending it into her crease.  I then layered a dark bronze shadow on top of the soft bronze shade for dimension.  I smudged the dark bronze along her top lash line and soft bronze along her bottom lash line for extra definition.  Next, I primed and coated her lashes with Talika Lipocils & Black (coming soon).  This eyelash treatment will lengthen the lashes and make them thicker. Once the treatment dried, I applied two coats of the lengthening and volumizing black mascara.  Then, I applied Talika Eyebrow Lipocils to groom her brows and add a little luster to them.  For her lips, I applied a soft peachy lip stain."
What do you think of Chloe Moretz' makeup for the "Carrie" premiere? And are you seeing the flick on opening day or WHAT?

Like this post? Don't miss another one! Subscribe via my RSS feed.