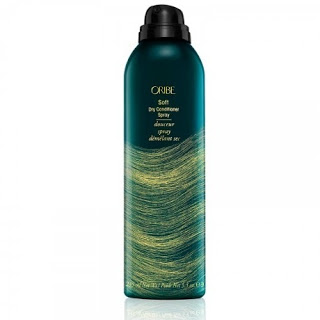 Oribe's Soft Dry Conditioner is a product recommended to me by the queen of blowout extensions, intern Julia. 


She can keep a 'do going longer than the Energizer Bunny, whereas mine tend to wilt after 36 hours, if I'm lucky. Why? Well, after 24 hours, like the Hawaiian island of Kauai, my hair boasts dual climates–the ends are arid as shit, while there's a veritable tropical jungle on the other side (my roots). I Mason Pearson through the whole mess several times a day, but still, somehow my ends remain about-to-catch-brushfire-dry while I spray dry shampoo onto my roots to soak up the excess oil. And then brush it through to camouflage the powder and distribute and BAM–my ends are financial-prospectus dry. Until I discovered Oribe Soft Dry Conditioner, that is. 

This spray-on light conditioning spray doesn't leave your hair WET (a curly gal's deepest fear), nor does it weight it down. Defying CHEMISTRY, this mystical mist really does condition without imparting a single blow-out assassinating water molecule. The result is flexible, touchable ends with minimized raggedness. AND it yields that a singularly spectacular Oribe scent to refresh your tired mane, to boot.

Get involved with Oribe Dry Conditioner, $35 at spacenk.com.

Have you tried this product? What are your thoughts on dry conditioners?



Like this post? Don't miss another one! Subscribe via my RSS feed.