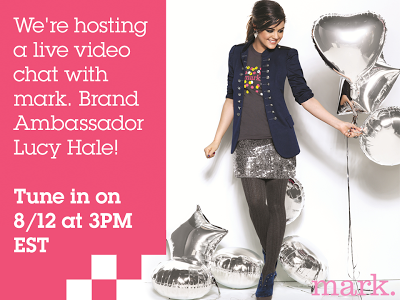 Guys, in the perfect collision of my love for beauty, pop culture, TV and teen life (seriously, I have to talk myself off a ledge from buying dorm gear every August), I'm thrilled to announce I'll be interviewing Pretty Little Liars' Lucy Hale for a video chat on Monday!


I'll be asking her all of my burning beauty questions (BBQs, obv), but would love to include one of yours, too–so ask away in the comments below and one lucky reader's question will be asked on Monday, August 12th. Because as my PLL gals know, two can keep a beauty secret if one of them is dead. The chat starts at 3pm ET via Livesteam. To participate, simply like the Mark Girl Facebook page and click on the Lucy Hale tab. See you then! 

Like this post? Don't miss another one! Subscribe via my RSS feed.