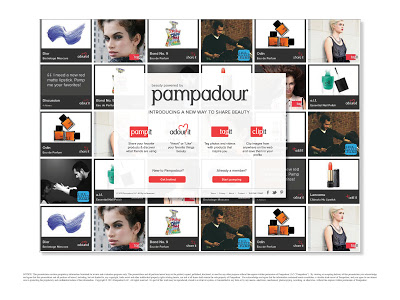 Beauty friends–are we pamping yet? Trust me, it's worth the pamp and circumstance.


Pampadour is 2 parts Pinterest, 1 part Facebook and above all, a beauty community for the makeup, skin care and hair obsessed. The site is a place to store virtually all your pretty products—those you want to buy, as well as those that have already become part of your repertoire. 

That elusive foundation shade in a series of three numbers, the eyeliner named in Italian with a reference to the works of Dante? With a simple "clip," you can easily organize them for future reference in your "cloud." On the site, you can discover and connect to recreate the red carpet looks of major celebrity makeup artists or "pamp" (share a product on another's page) a product to a friend you think she'll "adour."  You can upload and tag photos and videos with products that inspire you. All products that are featured, tagged or shared on Pampadour can even be purchased by users via the brands' websites. 
Get involved at Pampadour.com. Add me as a friend and let's pamp!
Like this post? Don't miss another one! Subscribe via my RSS feed.