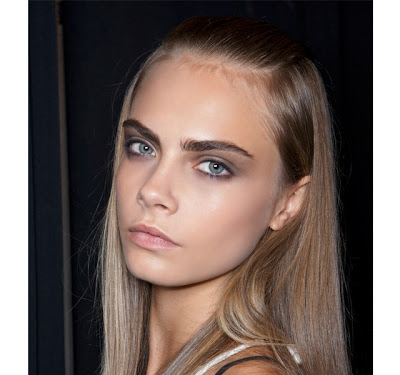 Fictionary is a column showcasing beauty-related words that don't exist, but should.
Instead of continuing to simply be obsessed with model Cara Delevingne's brows and working on my own years-long journey to plump mine up from thinnish to medium at best, I decided to partake in Browhaus' brow resurrection service ($925; lasts up to two years) to get a semi-permanent mark of Delevingne-iation. Here's why the service is officially the new lash extensions. I guarantee you it'll be the next big beauty thing.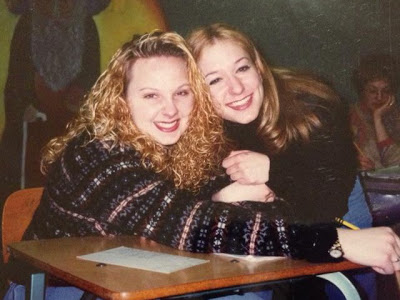 My brow history: A high school pic of my friend Angela and me. My brows are SO far apart (that's actually how they grow naturally) and very thin. Why? Because Drew Barrymore's were in 'Mad Love,' which came out 2 years prior. I wish I had a TIME MACHINE to tell myself not to do this to my brows.
Just one day prior to my Browhaus appointment, I was lucky enough to attend a NARS Cosmetics event where brow maestro Maribeth Madron gave me a shape I adore. My brows have always been far apart and a little on the thin side. Of course, post-brow resurrection people seem to have a revisionist history of my brows including my own mother who keeps saying, "Oh, you've always had your father's brows." Nope. P.S. My father's brows are so robust that the first thing I do when I get to my parents' house in the Philadelphia suburbs is sit him down and cut them for him. Okay? I only wish I really had his brows and didn't have to essentially have them tattooed on.

Before and after! Left: my natural, unenhanced brows right before the service. Please excuse my puffiness, this was the Friday of the Boston bombing/Cambridge shooting/Watertown situation and I slept approximately one hour the night before. Middle: Just after the service. Super dark, but great shape. Right: A week later, perfect brows with ZERO pencil, gel, nothing.
The brow resurrection service takes about 2-3 hours and is mostly painless. First, you do a consultation, at which the brows are drawn in with small, simulated hair strokes with a black pencil and shaped until you are happy with the results. The semi-permanent procedure includes a "stamping tool" which creates scratches made into the skin's surface to create detailed and natural looking "hairs" that are then filled in with the vegetable-based dye. It's like a tattoo, though I cannot confirm or deny whether it's more painful as I have no tattoos. Tattoos are not my scene, but tattooing on brow hairs to make mine look more robust in the name of beauty? Sign me UP, obviously. You then get a tune-up between 1 and 2 months of the treatment to perfect your brows to your liking.
With Aly, Marina and Dina at Marina's wedding two weeks post-resurrection.
I left with very dark brows with a phenomenal shape, thanks to Morgan, who did my resurrection. They lightened up a bit over the course of the next few days and were about 30% lighter overall (as Morgan had said they would be) a week later. They hurt a bit the first day or two, but as they healed (and I used the Browhaus Build and Fix aftercare products the salon recommends) they mostly just itched. The healing process wasn't too dramatic and I absolutely love the results. I feel much more "done" without makeup on and can finally skip the whole brow part of my makeup regimen, which was actually pretty lengthy what with pencil, brushing and then setting with brow gel.
There are also three unexpected bonuses of my Brow Resurrection.
1. I can wear less eye makeup.
2. I can finally wear nude lipstick–I feel like a Kardashian! My new brows give my face a focal point, so nude lips don't wash me out.
3. I can wear my hair half-up and feel polished.
I cannot explain this, but just know that I love it. Get involved with your own brow resurrection at Brow Haus, 56 Spring Street, New York. Browhaus is also offering a 15% discount when you book your brow resurrection appointment through the salon's Twitter feed, @BrowhausNYC. I'm also giving away ten free brow shaping treatments, so follow me on Twitter (@Glambr) for details on how to enter.
Tell me in the comments: Is brow resurrection something you'd be game to try?
Disclosure: Service was provided by Browhaus for editorial consideration.  
Like this post? Don't miss another one! Subscribe via my RSS feed.