"There is an idea of a Patrick Bateman; some kind of abstraction. But there is no real me: only an entity, something illusory. And though I can hide my cold gaze, and you can shake my hand and feel flesh gripping yours and maybe you can even sense our lifestyles are probably comparable… I simply am not there."

Welcome to  BBJ series, Fictitious Fragrance Fans. Fragrance is one of the most difficult areas of beauty to discuss and I find myself trying to convey a scent to you, more often than not, by the pop culture character it embodies to me. So why not make it a thing? 



Say what you want about American Psycho's Patrick Bateman–but no one can deny the dude is impeccably groomed. Doesn't this morning routine say it all? 





He looks marvelous. There's nothing to say.
He uses an exfoliating gel scrub on his face, different, of course, from his honey almond body scrub he uses on his body. Unfortunately, routines this lengthy aren't as spectacularly singular as you'd think they'd be for a gentleman in New York City in 2013. Among his love of Oliver Peoples sunglasses, Bottega Veneta leather goods, it's documented that he dons Jean Paul Gaultier, Valentino and
 Ferragamo 
suits. Patrick Bateman would surely be rocking the latter designer's latest men's scent,
Acqua Essenziale
this summer at his Hamptons house while enlightening somebody about the nuances of pop stars' early careers.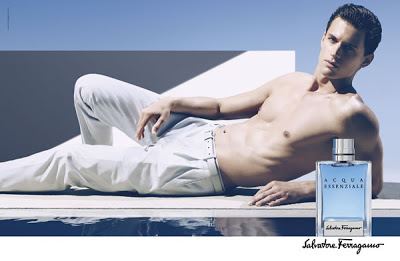 I'd posit Patrick was listening to some Genesis on his way to return some video tapes when a little "In the Air Tonight" came on and he was struck by the dramatic part of the song while shopping at the Ferragamo boutique on Fifth Avenue, spritzed it and was enticed by its notes of mint and lemon leaf,  rosemary, lavender and sea notes with a base of patchouli, vetiver and musk.  It smells masculine and confident, maybe ever so shallow, slightly of mergers and acquisitions, but fresh and incorporates the essence of sea air.
Buy Salvatore Ferragamo Acqua Essenziale for $60 online.

Like this post? Don't miss another one! Subscribe via my RSS feed.