For your weekend edition of Official Mascara Correspondent, Ashleigh Ciucci is here with a rave review for Trish McEvoy High Volume Mascara. Here, her review.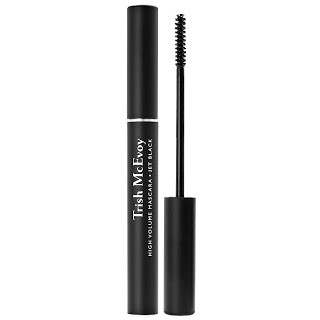 Before I can even write my review, I just have to say that I love, Love, LOVE this mascara.  I tend to think of Trish McEvoy as being a relatively conservative and practical brand.  But she really broke this mold with this mazzie.
While there's nothing ground-breaking about the brush (super thin, comb-like), the combination of it's shape and the formula is what really kicks this mascara into high gear. Because the brush is so slim, it really works the creamy product into the lashline.  My lashes are blonde, so I love when I can get coverage from root to tip.  Because the mascara itself is so creamy, it builds really well and offers an excellent first coat with volume and lift.  While I could've stopped at one coat, I went for coat two.  While it had dried a bit, it still built good volume at the roots (just watched for squared-off tips with too much product.) I was so impressed and happy with the end result and it's longevity that I didn't even need an evening touch-up.
It should be noted that it required eye makeup remover and soap and water to remove, but it's a small price to pay for an excellent mascara!  Buy this one, duh!–Ashleigh Ciucci
Purchase Trish McEvoy High Volume Mascara at
HSN.com
for $30. Have you tried this one? 
Like this post? Don't miss another one! Subscribe via my RSS feed.