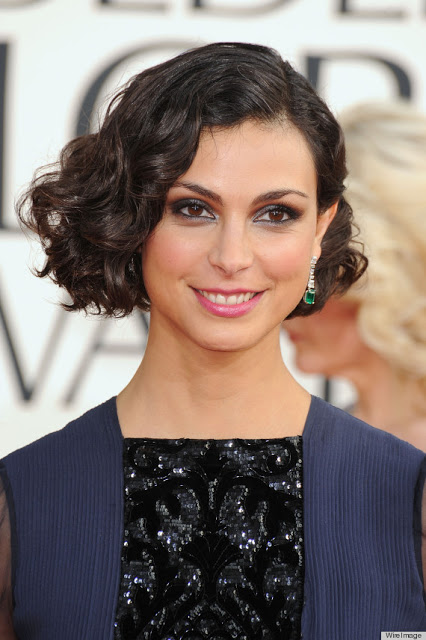 Just got the scoop on Morena Baccarin's Golden Globe makeup look from her makeup artist, Lina Hanson. Says Hanson, "She is wearing a gorgeous navy Valentino gown and the hair is wavy so we decided to do a charcoal metallic smoky eye with pop of color on the lip." Here, the beauty breakdown, in Hanson's words. 
"I started out prepping her face with Lina Hanson Global Face Serum. This serum gives your skin an amazing glow and it makes foundation easier to blend. I applied Koh Gen Do Aqua Foundation in OC 2 using my finger tips, and then I applied Jane Iredale Active Light undereye concealer underneath her eyes. 
For her eyes, I started applying Josie Maran Cosmetics eyeshadow in Magic to her eyelids and blended the shadow up to her crease. Then I smudged the same shadow in the lower lash line. Next, I dipped a wet thin brush in black eyeshadow and lined the eye as close to the upper lash line as possible, and then I used a black eye pencil Cargo Cosmetics Eyeliner in black and lined the inside rim of her eyes. Then I curled her lashes and applied several coats of Tarte Cosmetics Amazonian Clay Mascara to both her upper and lower lashes, and added a few individual lashes to the outer corners of her eye. 
For her cheekbones and inside the corner of the eye I applied a liquid illuminator which I made myself specifically for Morena. This accentuate her cheekbones and makes the skin look glowy and fresh. For her cheeks, I used Vapour Organic Beauty Aura Multi-Use in Torch and applied it to the apples of her cheeks using my fingertips. 
*For her lips, I blended a couple different lipstick shades from Gabriel Cosmetics- Zuzu Luxe Lipstick (Gluten Free)  to get the right shade. I mixed the shades, Beso Beso and Vino de Amor.
I finished the look by sweeping some Jane iredale Pure Matte Finish powder over her face to make the makeup stay longer."
What are your thoughts on M
Photo: huffingtonpost.com

Like this post? Don't miss another one! Subscribe via my RSS feed.