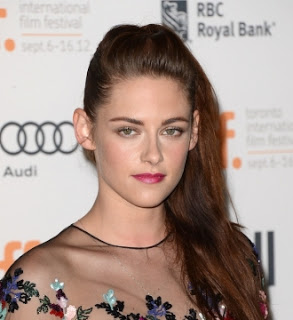 She may be heartbroken after her breakup with Robert Pattinson, but Kristen Stewart's looking extra-fly lately, don't you think? She had a personal beauty best at the premiere of "On The Road." Hairstylist Giannandrea created the hairstyle Kristen Stewart wore for the premiere of On The Road at the 2012 Toronto Film Festival on Thursday, September 6. The inspiration? "For Kristen's red carpet look, I wanted to evoke a rock and roll princess!" Here's how to get the look, in the words of Giannandrea.

"I started on wet hair using ECRU Marine Thickening Balm throughout the whole head from scalp to ends in order to build fullness and volume.
I then blew out the whole head using a medium size round brush. I waved the whole head in. Using a 1 1/2 –inch size curling iron, I curled large sections of the hair softly. I sprayed each section before curling with ECRU Sunlight Spray to set it and to give it a great texture.
I then brushed the whole head with a Mason Pearson brush to create volume. To add additional volume to the crown area, I back brushed the top section of the hair. I brushed back the sides and pulled the hair into a twisted small ponytail and placed it on the top part of the head (this ponytail will be covered later by the top part).
The top section of the hair was brushed lightly back to retain the volume and was then twisted into a high voluminous 'rock and roll' twist. I pinned the twist to the top of the crown covering the small ponytail (made from the sides). After pinning into place I gently brushed all the hair back placing it onto the left shoulder to give a voluminous textured brush feel.
I finished the look by smoothing all of the hair with my hands (the sides the top and the length) with ECRU Acacia Oil to give it a shine mostly to the sides.
It's important to make it soft and not hard for that princess like results! Only the sides of the hair should be tight."
What are your thoughts on Kristen Stewart's look lately?
Like this post? Don't miss another one!
Subscribe
via my RSS feed.