To conclude my CoverGirl MTV VMA 2012 COVERage, naturally, we'll discuss a little makeup. Specifically that of Pink (both for her red carpet and her ravishing red performance makeup moments) and the glamorous look created for Taylor Swift that was ever so Elvira Hancock of Scarface fame paired with her matte white suit (as opposed to her signature sparkles). Here, the beauty breakdowns, courtesy of both pop princesses' makeup artists.

P!NK's MTV VMA Red Carpet and Performance Red Carpet & Performance Looks by Kathy Jeung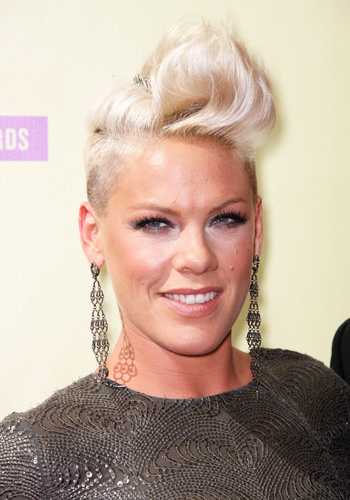 "Pink's choice for her red carpet dress went wonderfully with what I had in mind for her beauty look, which was creating soft metallic depth around the eyes and keeping the rest of her face soft, glowing and bronzed. Since we only had a short amount of time for a makeup change for her performance look, we both loved the idea of a red carpet look that I could quickly transform in one or two steps.
Her performance outfit had such a great modern interpretation of film noir and punk and with the bold graphics and colors in the set design and lighting, I knew it was the perfect place to do something dramatic! I had just enough time to not only add color to her lips, but add depth to her eyes and give her look a twist by adding appliqués of bright red patent on her eyes.
Face
I applied COVERGIRL Natureluxe Silk Foundation using a foundation brush and moistened blender sponge. I then set with a dusting of COVERGIRL Professional Loose Powder. We used
COVERGIRL Clean Oil Control Pressed Powder for touch ups throughout the night.
Eyes
RED CARPET 
I prepare the lips with a lip balm when I'm doing skin preparation so it has a chance to absorb into lips. I then lined the lips with
COVERGIRL LipPerfection Lipliner
in Smoky and applied
COVERGIRL OutLast All-Day Lipcolor
in Faint Hue.  To finish the lip look, I added the corresponding Outlast All-Day Lipcolor clear lip gloss top coat to add shine.
PERFORMANCE
I started with applying
COVERGIRL LipPerfection Lipliner
in Passion to define the lip edges then lightly powdered the edges to set, especially since I was working with a strong color.
After applying
COVERGIRL Queen Collection Lip Color
in Ruby Slipper, I blotted the lips after the first coat with a tissue, lightly powdered the edges with a powder puff and re-applied the lip color using a lip brush for extra staying power and intensity." What are your thoughts on Pink's two makeup concepts? 
"Taylor wanted her VMA makeup look to be inspired by her new CD, Red, and by the sophistication of the sleek ivory suit she wore on the red carpet.  We knew that a strong red lip color would be perfect for the evening, but also wanted her eyes to stand out with bold liner.
Face 
Eyes
I brushed on
COVERGIRL Eye Enhancers 1-Kit Shadow
in Champagne from her lash line to the crease, concentrating the color in the inner corners of her eyes for sparkle. In the eye crease and slightly above, I brushed
COVERGIRL Eye Enhancers 1-Kit Shadow
in Tapestry Taupe, which is a great color to add a bit of warmth to the eyes without adding too much color. For the defined bold eyeliner, I used
COVERGIRL LineExact Liquid Liner
.  Starting at the inner corners of her eyes, I drew outward to the end of the eyes, going from thin to thicker with the liner and flicked up when reaching the end of the eye to create a cat-eye look.  On the lower lash line, I used a damp detailer brush dipped in
COVERGIRL Eye Enhancers 1-Kit Shadow
in Brown Smolder and brushed it into the lower lash line for a less-defined line on the bottom. I finished the eyes with
COVERGIRL LashBlast Fusion Mascara
.
Lips
Last, here's my own beauty breakdown. Makeup was courtesy of the lovely Stella Kae. The inspiration for the look? Miss Taylor Swift's classic lined eye and red lip combo. Here's what Stella used. 
Disclosure: This post is sponsored by CoverGirl, but all opinions herein are my own. 
Like this post? Don't miss another one!
Subscribe
via my RSS feed.