Did you guys know that August 21st is the 25th anniversary of Dirty Dancing? YES. Get ready for SEVERAL DD-themed posts until that fateful day. My friends Lauren, Jaime, Roberta and I are even planning a viewing at which we'll eat mini gherkins and end the season with the pechanga (SURE, NEIL). So in the spirit of beauty at every age (which is so Harper's Bazaar of me), I've created a skin care recommendation list for women in the age brackets of Baby Houseman, Lisa Houseman, Penny and Marjorie Houseman. You may be feeling like skin carewise, you can't win no matter what you do, but you're wrong. You're bound to find an item perfect for your own peau from these tried and true gems. Put down that watermelon and let's begin. Take a little vaca with me to the Katzskills (a term my genius friend Tamar coined.)
Baby Houseman's glow comes from pre-Kennedy assassination innocence, pity for southeast Asia, her soon-to-be-shed virginity and soaking up the last bits of freedom before she starts Mount Holyoke in the fall. Here's what she'd be using today for Baby soft skin.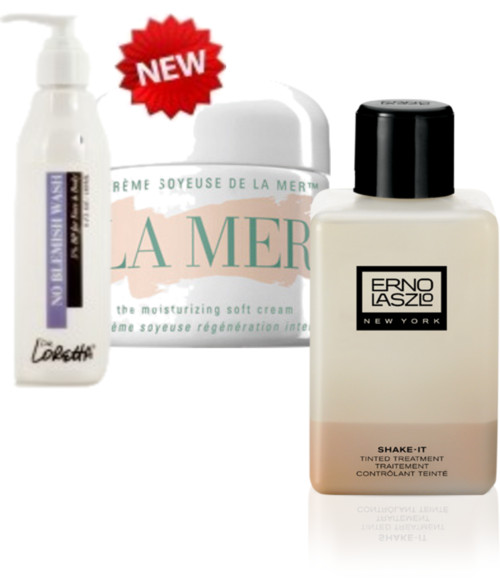 Dr. Loretta No Blemish Wash How much less impactful would it have been if when Baby poured water on Robbie the creep, she'd had a screaming, red pimple? Exactly. Who CARES if you have notes in the margin, Robbie. #itsneverthenightwithrobbie



La Mer The Soft Cream I've dedicated an entire post to this magical new cream from La Mer. Baby would love the smooth texture it imparts when she's rubbing her cheek on Johnny's broad chest in bed asking him, "Have you had many women?"




Erno Shake-It Tinted Treatment is a unique product I absolutely rely on for summer's sweltering skin situations. This is a tinted toner that you dab on with a cotton ball and it magically turns into a powder to mattify your mug in even the most humid of climes.



Lisa Houseman, the most underrated supporting character in CINEMA, if you ask me. Her bangs are totally current in 2012, she already knows where she wants to honeymoon as a teen, she blithely announces she's going to cash in her V-card to the biggest douche at Kellerman's until her plan is brutally derailed when she spies Robbie in flagrante delicto with a massive cougar. She KNOWS from coral shoes, beige. iridescent. lipstick AND… skin care. Her gleaming skin always looks divine. Here's what I think she would have used today.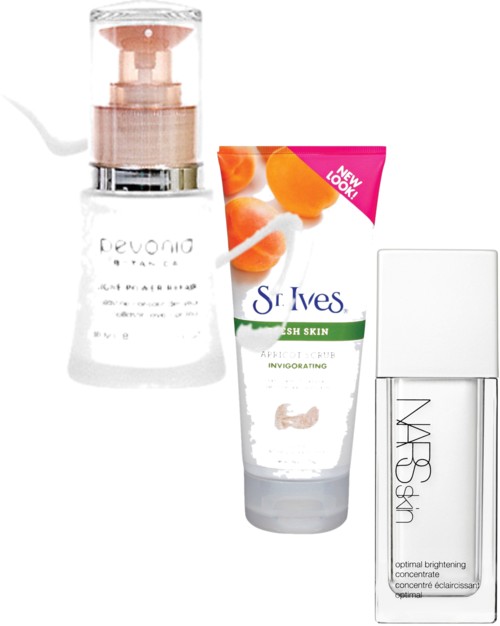 St. Ives Invigorating Apricot Scrub She does Baby's hair regularly, so we assume Lisa knows a thing or two in the beauty department. Two weeks here [at Kellerman's] feels like a year, and Lisa's not about to let dead skin cells build up in that time when there are so many cute waiters with whom to flirt. This scrub smells great and positively digests dull skin to reveal gleaming greatness.

NARSskin Optimal Brightening Concentrate Lisa may not be able to control Robbie, but she can control the luminosity of her skin. With light-reflecting technology, Lisa will be the center of attention on stage. Always her goal.
Pevonia Botanica Collastin Eye Contour Come on. You don't think a girl who's already planned her honeymoon whilst barely dating someone wouldn't be pre-attacking any future eye wrinkles? Girl, please.

Penny Johnson
Ah, Penny. WHO, praytell, in any movie, is more glamorous than Penny? With her coral-nude dress, her sunny blonde hair, her rough and tough accent, her low tolerance for Baby's dadditude (i.e., calling her dad to rescue/pay for/abort when necessary), she's no-nonsense. My friends Lauren, Jaime and Roberta and I all talk about how we originally thought she got STABBED when we initially saw the movie in '87. She's a performer who really needs to protect and prime that canvas. Here's what I imagine is in her fictional medicine cabinet.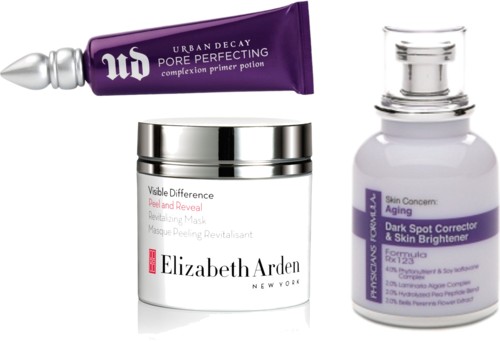 Urban Decay Pore Perfecting Complexion Primer Most of Penny's time is spent swirling on stages in major makeup under bright lights, so an even skin texture and tone is paramount. Urban Decay's new primer is perfect for her: It provides an flawless canvas on which to bring out her delicate features via makeup. The silky texture is to DIE and it glides on like Robbie probably did into her life (and unfortunately, her pants).

Physician's Formula Dark Spot Corrector & Skin Brightener A winner whether you're subsisting on Jujubes or women are stuffing diamonds into your pockets, a polarizing dynamic Penny's BFF Johnny most famously witnessed. Its luxurious texture belies its price tag–under $20 at drugstore.com. I like that it imparts instant radiance and is fragrance-free.


Elizabeth Arden Visible Difference Peel And Reveal Revitalizing Mask This one's a skin care item I've been using nearly since I ORIGINALLY saw DD. The spa-inspired mask exfoliates and retexturizes skin in just 20 minutes. Peel and reveal smoother, brighter, glowing skin.
Marjorie Houseman had a penchant for dancing (she sure cut a rug with Neil Kellerman, owner of two hotels–take that, Jamie the lifeguard) and talking her daughter Lisa down from whatever fictional dramatic ledge she's on ("So you'll go to Acapulco!" "Well, you brought ten pairs [of shoes]!"). Here's what she'd be rocking on her mug in 2012.


Lancome Absolue L'Extrait  This one comes at a hefty price, but it's no big whoop for this doctor's wife. The elixir boasts up to 2 million Lancôme Rose native cells. Its texture is crazy-luxe and it smells like a dream. Extracted from the heart of the rare and resilient Lancôme Rose using an exclusive, state-of-the-art biotechnological process, these cells are said to enhance skin's regenerative potential.

Dr. Lewinn By Kinerase Wrinkle Repair Day & Night Cream Marj needs to undo any environmental damage she's incurred spending days golfing in the Katzskills. This cream is ideal for that, as well as helping to reduce wrinkles and smoothing skin's surface.
What's your skin care jam this season? And tell me what you were doing in 1987 when Dirty Dancing launched! I was in camp (Spring House in Spring House, Pennsylvania) completely unaffected, as I was 7, but you better believe I saw it the minute it hit video the next summer.
Like this post? Don't miss another one!
Subscribe
via my RSS feed.