Miraval!
Miraval is really like prehab. It's a place people to go relax when they're exhausted, "exhausted," undergoing a major life situation (like post-divorce, layoff or in mourning, for example). It's divine for a chill girls' getaway for a long weekend. I just got back from an incredible stay courtesy of Clarins, whose fabulous products grace the serene spa at the resort. Also? It's a favorite of Oprah and Barbara Streisand not to totally DROP NAMES WHILE DROPPING NAMES. So it's major, mmkay?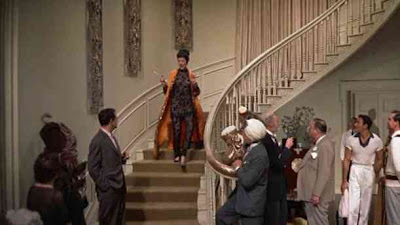 "Life is a banquet, and most poor suckers are starving to death!" The original eccentric aunt, Auntie Mame.
For me? Miraval's mindfulness philosophy and its culture of choosing your own choice (YOLO!) transformed me, within a mere 2.5 days, into AN ECCENTRIC AUNT! It was everything. Seriously. I was draping myself in maxi dresses, strongly considering purchasing some dangly turquoise earrings, consuming the most delicious healthy-for-me foods, juicing on a regular, coveting crystals and talking about my intentions and chakras. I have no nieces or nephews at this time, but the transition is complete, friends.
What I love? There's either tons to do or nothing to do there–you choose your choice. Hikes, yoga and pilates classes and even an incredible
equine experience
 are among the offerings. Or, you can simply take in some spa services from their fabulous staff and just sit by the pool and dive into the best bed I've experienced EVER. It was like sleeping on a cloud, making it difficult to choose my choice of 6:30am hikes–so I didn't.
Make a reservation at Miraval in Tucson, Arizona by calling 888.698.5914. Know that I'm jeal of your upcoming experience, as I'm currently experiencing Miradrawal.
Like this post? Don't miss another one!
Subscribe
via my RSS feed.