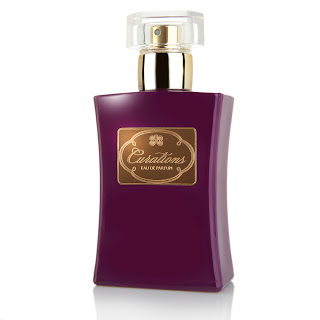 By BBJ Intern Julia Casella
Last week I had the pleasure of meeting Stefani Greenfield at her Curations perfume launch. The purple bottled (her favorite color) butterfly-stamped perfume is a sophisticated blend of citrus notes, mixed with a luxurious base of patchouli, sandalwood and amber, making it extremely alluring yet surprisingly clean
and fresh.

At the event she discussed how, despite being a free spirit and bohemian (she was wearing the most amazing maxi wrap dress and has beautiful wavy brown hair), she is also very ritualistic. I'm totally the same way: I like to think that I'm carefree but I still have little routines that I follow no matter where I am, like my morning coffee (and my subsequent 5-packet-per-cup splenda addiction). Her fragrance embodies this free-spiritualistic (free spirit and ritualistic) idea: while it's elegant and refined, it is also light and fun. And what could be more free-spiritualistic than spraying this butterfly adorned perfume every morning as
you run out the door?
Curations Eau de Parfum retails for $54 on hsn.com on June 19, with a special launch price of $48. What's your favorite summer scent?
Like this post? Don't miss another one!
Subscribe
via my RSS feed.