Official Mascara Correspondent Ashleigh takes ESSENCE I <3 Extreme Volume Mascara a lash lengthening spin. Does she love it? Find out.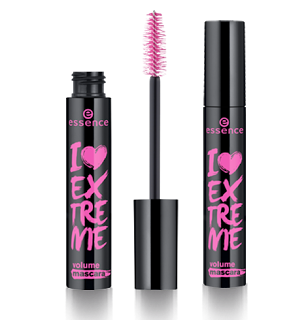 The first thing that must be mentioned about this mascara is it's ginormous brush. not long-tapered and fat like a Dior Show, but medium-sized and super bushy with slight spiral indents in the "fluff." Because of these indents, the brush holds lots of the creamy formula.
 With one coat, my lashes already looked like I had two coats of a normal mascara. Being adventurous (natch) I went in for coat two; we're talking huge lashes, broad lashes, venus fly-trap lashes! With all this volume, though, you need to watch out for bulkiness at the tips. I got a little overzealous and needed to comb out the blunt tips with a lash comb.
It was a little dry by midday and when trying to touch-up, it started to flake a bit and clump. Even thought I can be a creature of habit with the afternoon touch-up, these lashes are no joke and no extra coat is really necessary. The only bummer is that it was a bit difficult to remove (makeup remover and face wash), but the look was super fun for a bold day or a wild night out.
 I would recommend this baby, but not for the faint of heart!
–Ashleigh Ciucci
Like this post? Don't miss another one! Subscribe via my RSS feed.