My LOST-themed Calgel mani
 This weekend, Karen and I jaunted on over to Marie Nails in Soho, a Calgel nail art place you need a reservation a month in advance. ALL month long I was tortured over WHAT to get on my nails. It'd be on for at least two weeks, so it had to be epic. It had to be something that looked cool, but also MEANT something to me. Some ho had already done "Back To The Future" nails, so clearly, I couldn't crib her steez. I also can't deal with something TOO elaborate; as you know, many things are Just Too Funky For Me. I mulled over it for days. Read on…

And then–EURE(E)KA! I knew I needed LOST nails. Even though the show's been off the air for almost two years. Even though it's not remotely fashion-y, nor especially fabulous. It took care of ALL of my obsession AND sci-fi requirements. My nail tech was amazing. I told her I wanted turquoise on most of my nails to represent the ocean surrounding The Island (and I wanted to keep it fairly simple). And THEN, two accent nails: One green painted with grass to serve as the jungle and one featuring the Dharma Initiative logo, which I pulled up on my phone to show her. She did an AMAZING job, even fitting the word "Dharma"on my teeny tiny nail in the middle of that elaborate logo, while I was talking to Karen at the next nail station over, all the while trying not to gesture too wildly so as to mess up my nail art. It cost $54 and was so worth it because I love it and can't stop showing it to people.
Karen, BTW, got a sick black glitter holographic mani with two accent nails with THREE-D lips based off of that famous gold-dipped tongue Marilyn Minter photo. AMAZING.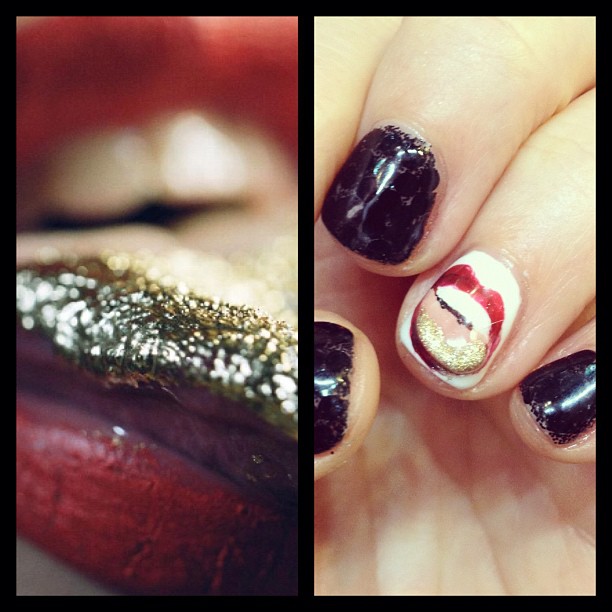 What do you think?
Marie Nails is located on 155 Prince Street between W Broadway & Thompson St in New York. Call (646) 370-4170 or visit marienails.com for more info. 
Like this post? Don't miss another one!
Subscribe
via my RSS feed.