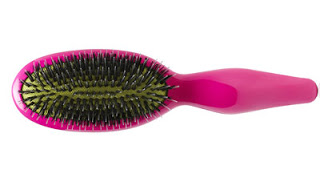 I can't stress enough the importance of brushing your hair at night, Marcia Brady-style. It distributes oils to your ends so your hair is nourished all the way through. Otherwise, ends get split and ragged in like, five minutes. It's also vital to give hair a thorough brush-through with a good bristle/nylon mixture brush right before getting in the shower. I'd been packing up my full size Mason Pearson every time I travel until I attended the Sonia Kashuk spring product preview a couple weeks ago and scored this AWESOME bold mini brush.
Can you even with the Lily Pulitzer-inspired color palette? This $13 brush is teeny tiny and perfect for packing in your purse for on-the-go touchups, or establishing residency in your toiletry bag for trips. It's so bright and cute, I've even been using it instead of my mondo Mason (and trust me, nothing comes between me and my Mason–except this!) for quick brushings before I leave the apartment.
Get it at target.com before they sell out.
Like this post? Don't miss another one! Subscribe via my RSS feed.