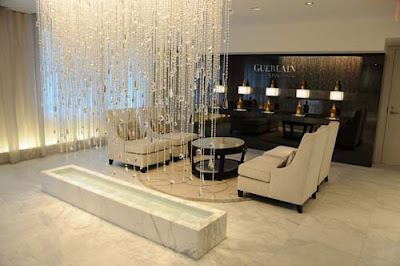 Guys, the Guerlain Abeille Royale Facial at the Guerlain Spa at the Waldorf Astoria is a game changer.  Read on…
This is going to sound like the most first world problem–but the majority of the time, I find spas aren't ALL that luxurious. Don't get me wrong–it's not something I NEED. Many spas I hit up are NICE. They provide phenomenal service or they won't be written up on BBJ. But next-level luxury? Well, it's pretty rare–like, I experience those extra luxe touches only about 5% of the time. But I can assure you that when you step into the hallowed halls of the Guerlain Spa at the Waldorf Astoria in NYC, you will take part in a veritable JOURNEY of luxury which includes various and sundry special touches, all of which combined made me feel an echelon of sophistication I've only previously associated with Michael Caine's character in Dirty Rotten Scoundrels. I.e., my barometer for FANCINESS pretty much my entire life.
Naturally at the spa, I was inspired to casually lean on any and all supporting room structures and just generally channel my most formal, pedigreed self.
The Guerlain Spa's lavishly luxurious special touches include:
Asking you before you arrive if you'd like water, at which temperature, champagne and what kind of music you'd prefer as you enjoy your service. I chose French pop, OBVIOUSLY. Moi je joue! 
An extra large suite with its own bathroom where your service is done–no locker rooms in which to change with the unwashed masses of society. In the bathroom is a toothbrush kit with a mini Colgate toothpaste (thrilling!) and other items for your convenience
In the main room, there are Guerlain cosmetics and skin care products you can use post-treatment and even the latest Shalimar for you to spritz
While you're having your service done, someone will even shine your shoes for you in a different room while you're relaxing
A handwritten NOTE from your aesthetician waiting in the room upon your arrival
Waldorf-quality comforter on the heated bed on which you lie during your service
My Abeille Royale Facial lasted 80 minutes with aesthetician Maria, whom I've made my Chief Skin Care Officer, as she instantly understood how crazy-clogged my pores get, gave it her all to purge as much gunk from them as possible in the allotted time AND even put me on a regimented schedule to come in and see her expressly for extractions every three weeks until we get things under control. The products are incredible–I'm especially a fan of the Guerlain Abeille Royale Eye Cream, which is rich, hydrating and rejuvenates my eye area visibly within minutes. I left with glowy, plumper, firmer, smoother, more even skin that STILL looks better a full week later, all thanks to the brand's incredible Abeille Royale suite of products. In the paraphrased parlance of a famous philosopher we both know named Beyonce—I think you ARE ready for this jelly.
Also epic: The Guerlain Orchidee Imperial Neck & Decollete Cream, which per Guerlain publicist Nicole's suggestion I've been leaving next to my bed so I'll remember to apply it nightly. It's like giving my neck a desperately needed DRINK. I adore it.
The Abeille Royale Facial at the Guerlain Spa is $310 for an 80-minute session. Call 212.872.7200 or book online at guerlainspas.com. 
Like this post? Don't miss another one!
Subscribe
via my RSS feed.