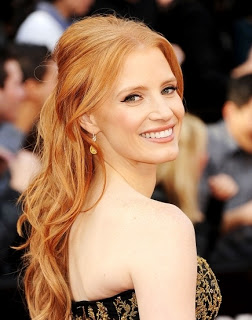 Once again, Jenny Cho has created one of my favorite hairstyles of the night. Remember her epic PONY for Nicole Richie? The Suave Professionals Celebrity Stylist knew all eyes would be on Jessica Chastain, nominee for best supporting actress for her role in "The Help" so she created a natural, romantic style to complement her gown. Here are tips straight from Jenny on how to recreate Jessica's look at home. P.S. I loved Jessica's dress. It was my fave after Gwyneth's. What say you?

 "My inspiration for Jessica was to give the whole look a romantic feel that was free and easy with a slight, sexy bump in the crown."
1. Spray Suave Professionals Volumizing Root Boost Spray at roots of tresses and layer a dollop of Suave Professionals Keratin Infusion Leave-in Conditioner for heat protection and smooth, manageable hair. Blow dry with a round brush for volume.
2. Starting from the nape, separate hair in sections. Spray each portion with Suave Professionals Touchable Finish Lightweight Hold Hairspray and curl with a large two-inch curling iron. When curling strands near the face, curl hair away from face.
3. Next, tease the crown of hair for height and spray with Suave Professionals Touchable Finish Lightweight Hold Hairspray to secure tresses. Smooth the very top layer of hair for a polished finish. Pull back the section of hair just below the crown and pin, bringing one side back at a time into a half way french twist.
4. Loosen up the curls with a drop of Suave Professionals Keratin Infusion Smooth & Shine Serum for shine and smooth style. Complete the look by misting hairspray for hold.
What's your feeling on Jessica Chastain's breezy 2012 Oscars hairstyle? Glam or not so glam?
Like this post? Don't miss another one! Subscribe via my RSS feed.