Ladies, today's post comes to you courtesy of my gal Meghan Asha. I've long wanted to succumb to the siren song of the TEMPTU, of which makeup artists sing praises beyond the beyond. But these lash extensions and my not wanting to eff up my blowouts keep coming between me and the gadget of gorge. In a year-long standoff of Amber vs. The Machine, I finally gave up the fight and acknowledged that I am afraid of it, even though I know it's amazing. I am TEMPTU'd by the fruit of another. So I passed the baton to Meghan, whose amazing wash-and-go hair allows her to dabble in such treacherous adventures as the TEMPTU. In Meghan's words, her review of the TEMPTU.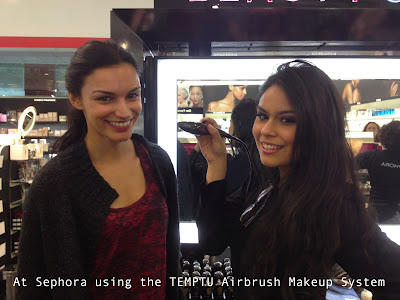 Meghan!
Normally I write about technology, but I can't help veering off topic to review a beauty gadget that is eminently life changing. For all the ladies (like myself) that hate the way foundation sits in their fine lines and wrinkles, I bring you TEMPTU. TEMPTU is an at-home Airbrush makeup system that literally mists your makeup on. Airbrush application has been around for years, but only accessible to professional makeup artists. TEMPTU has found a way to bring a convenient solution to the masses with little fuss and first-class results.The AIRbrush plus AIRpod application is like nothing you could ever achieve with normal foundation application. Your face looks flawless, feels aerated and unbelievably fresh.
You can do a variety of blending with a choice of settings for sheer, medium, and full coverage. Temptu also offers AIRpods to use for blush, bronzing, and highlighting effects. It takes very little time to apply, not to mention you can say goodbye to unhygienic brushes and sponges because Temptu's Pod never comes in contact with your skin. Temptu is the next generation in beauty.
I look forward to more innovations in the beauty gadget space. I hope one day, they can create a travel version of Temptu, so that beauty junkies everywhere can touch up their flawless Temptu-ized makeup with a clutch sized airbrush gadget on-the-go.
So, if you have even the slightest hesitation, I suggest you run, don't walk to your local Sephora and give Temptu a test drive. I promise you won't be disappointed. Better yet, I promise you'll feel like a supermodel all day long!–Meghan Asha
The TEMPTU AIRbrush Makeup System retails for $225 at sephora.com.
Like this post? Don't miss another one!
Subscribe
via my RSS feed.