The Luxe Capacitor 
series includes pricier items and services that really deliver. You know. Products/services I'm recommending for a little indulgence even 
In This Economy
 (
ITE
, as 
Carmindy
says). Because, can't we all agree that a little beauty luxury goes a long way? 
Luxe Capacitor
, 
BT
dubs
, 
is obviously a shout-out to my fave movie of all time
, 
Back to the Future
's 
Flux Capacitor
.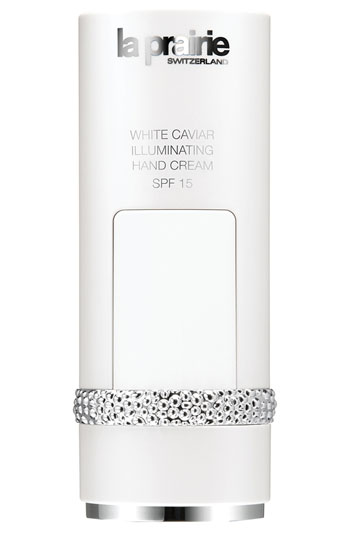 The new La Prairie White Caviar Illuminating Hand Cream
Inspired by how spry and young Matthew Broderick looks in his Ferris Bueller redux Honda CR-V commercial, yesterday I hit up the La Prairie Spa at The Ritz-Carlton in NYC. When you want to look fetus-young, there's no better brand to turn to than LP.
The entire experience was luxurious beyond MEASURE. I know this falls under the heading of First World Problems, but there are two things that always irritate me about spa culture that were stunningly non-issues at LP. 1. I lack a sense of direction to the point where I've accepted that I must be spatially (SPA-tially) dyslexic. At many spas, it's a veritable labyrinth to figure out how to get back to the changing room/waiting area/front desk. But the cozy, chic setup at La Prairie? Perfect. There's a charming, but small enough waiting area complete with fruit-infused water, fruit and tea in which guests can relax pre- and post-treatment. There are even heated neck warmers to adorn your shoulders (epic) AND a music menu you can check out before heading into one of the five treatment rooms located just off the waiting area. So you can nosh on some strawberries, eagerly anticipate listening to "Sail Away," (Enya's number 40, BT dubs) and get psyched for your facial. 2. I know it's not very SPA of me, but I drink COFFEE in the morning. So when one of the delightful members of the staff at La Prairie asked if I'd like coffee, I was freaking ELATED. COFFEE at a SPA is unprecedented! I'd just assumed I'd drink some BS tea and get my fix once I got back home.
So I was caffeinated for my delightful treatment with Lisa, who could not have been sweeter. As Storms in Africa undulated through the room in that way only an Enya song can, I snuggled under a veritable Ritz-Carlton down comforter-covered spa bed, the most comfortable one I've experienced to date. The facial included a series of cleansers, masks, toners and extractions (nearly painless, BTW–that Lisa is a pro) and a hand massage with the incredibly rich and luxe new La Prairie White Caviar Illuminating Hand Cream ($150). It boasts a texture that's straight up elegant and an expensive smelling light scent that calms as it rids your mitts of any dryness and flakiness. There were also interspersed neck and shoulder massages throughout, as well. After the treatment, I was devastated that I wasn't able to take advantage of the spa's steam room and gym, being on a deadline, but the next time you'd better believe I'll plan better. As it was, I was pulling a pretty Bueller move taking a facial at 9am on a Wednesday. But my skin looks radiant and purged of impurities. As I told my gal Nance on Twitter, my sebum's NOT on the backstage list at Fashion Week next week.
In the words of my dear friend Ferris, ladies, if you have the means, I highly recommend it. The Signature Facial at La Prairie Spa at The Ritz-Carlton is $210 for 60 minutes. The spa is located on the 2nd floor of The Ritz-Carlton, located at 50 Central Park South in NYC.
Disclaimer: Service provided for editorial consideration.
Like this post? Don't miss another one!
Subscribe
via my RSS feed.