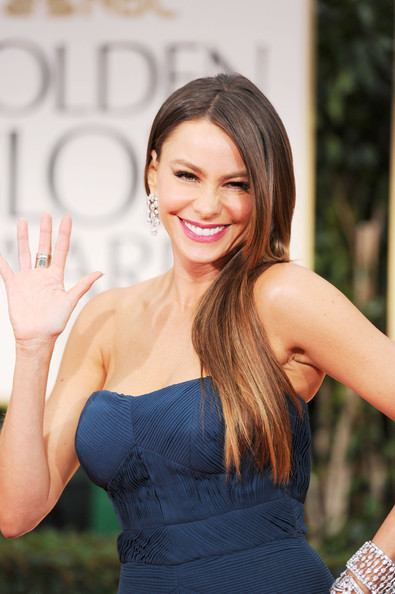 Sofia Vergara
 straight up STUNNED last night at the
Golden Globes
. In fact, I held an informal Twitter survey (
twurvey
) in which I asked who had a better rack: Salma Hayek or Sofia and Sofia won by a LANDSLIDE. And that's saying something. If you can get past the gal's sick bod, maybe you'll notice her glamazing makeup–courtesy of 
Kayleen McAdams. Here's how to get the look, per Kayleen.
Inspiration for the look
This look is all about the lips.  We chose a bright plum lip and kept the eyes soft with bronze shadow and multiple coats of mascara.  The dress is a gorgeous shade of teal and the hair is very sleek and youthful so we wanted the makeup to stand out and look youthful as well.
Face
Eyes
Lips
When she was ready to hit the red carpet, I sent Sofia on her way with powder, lip pencil and lipstick for reapplication.
What do you think of Sofia Vegara's Golden Globes look? And her Golden Globes? 🙂
Like this post? Don't miss another one!
Subscribe
via my RSS feed.