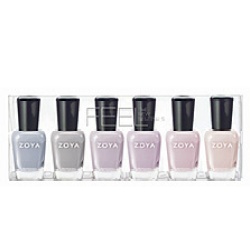 Zoya has released their new must-have 2011/2012 collection of polishes called the Zoya Feel Collection and I've been feeling every single shade. Get involved with this one, friends. It's the talon equivalent of Urban Decay's Naked2 Palette this time, heralding grey the way the Urban Decay iteration does taupe. The Zoya Feel Winter Neutrals Collection is an EXQUISITE set of creamy neutrals in winter colors in a highly pigmented formula.
All of the colors are very, very meaningful:

• Kristen: gull gray cream
• Carey: periwinkle gray cream
• Megan: taupe gray cream (my fave)
• Kendal: rose quartz beige cream
• Kennedy: pale french beige cream
• Avery: blonde beige cream
All of the hues are the love child of your favorite Crayola 8-pack shade–mixed with the exact soft color of a grey baby bunny. It's a muted, opaque twist on neutrals in a marshmallow-y finish, as if the Stay Puft Marshmallow man were somehow involved.
Do I love it? Yeah, well, you know. Grey's my favorite color. In the words of the Counting Crows.
Buy the Zoya Feel Neutrals Collection for $48 at zoya.com.
Tell me: Do you want to be someone who believes (in grayed-off neutrals)?
Like this post? Don't miss another one! Subscribe via my RSS feed.