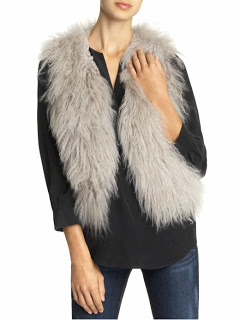 Confession: I visited this Sabine Mongolian Fur vest online about 36 times before finally caving and purchasing it. I just adore it. It's one of Rachel Bilson's picks on Piperlime.com. It's just so PERFECT. So puffy. The right gossamer shade of grey. It's a little steep at $189, BUT it's real fur. Which sparked another conundrum for me; I try not to buy the stuff. THEN I read that no animals were harmed to create this garment, so a sheep was simply shorn. Greeeaaat, a nice haircut for a toasty ewe somewhere in the universe! Also, Dina and I constantly talk about our primal struggle: When IS a good time to wear a vest, and what outerwear garments do you rock on top? But know what? I just don't CARE. I love this vest. I will wear it the entire winter/holiday season.
I can't wait to welcome it into my closet.
The Sabine Mongolian Fur Vest retails for $189 at Piperlime.com. 
Like this post? Don't miss another one!
Subscribe
via my RSS feed.