So, it's like, empirical that you guys have seen The Hunger Games trailer already, right?
Because we need to discuss how the red lids rocked by Elizabeth Banks as Effie Trinket is SO Pat McGrath's cherry red eyes moment at Miu Miu's Spring/Summer 20112 show by way of Tom Pecheux's red-orange eye moment created with Estee Lauder lip products at the Derek Lam Spring/Summer 2011 show. I can only hope the future will include technicolor lids in varying shades. If there's anything that thrills me more than a portal in a sci-fi work, it's fashion and beauty predictions. P.S. I'm still waiting for my Hoverboard. Get on that, Mattel.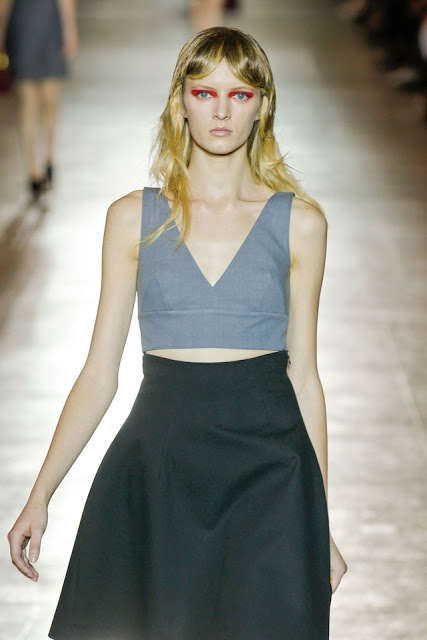 Miu Miu
How to interpret this look without the flashing bulbs and carefully Samantha-Ronson-selected snappy song? Pat McGrath says "of course you're not going to walk around with the red eye, but it's about the splash of color, whether it's green, blue, or red." She recommends swiping a color other than black or brown across your lashline.
Dolce & Gabbana The Lipliner in 3062 swatch
I've been following her advice using Dolce & Gabbana The Make Up The Lipliner in 0362, a cassis purple-red hybrid I'm loving. I took a swatch for you as I can't find it online.
Deep orange lids at Derek Lam 
What do you think? And will you ALSO be seeing The Hunger Games on opening day in March?
Like this post? Don't miss another one! Subscribe via my RSS feed.