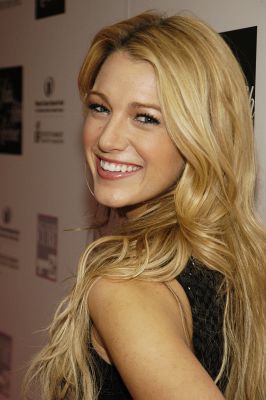 Major inter-coup (interview coup, obv)!
I recently caught up with the personable Rona O'Connor, the amazing colorist responsible for lightening and brightening the lovely locks of Blake Lively. Want a hue like hers? Did Welcome Back, Kotter's Vinnie Barbarino like to say, "Up your nose with a rubber hose?" Right, here's what to tell your colorist.

According to Rona, after going red for Hick, Blake immediately wanted to go back to blonde for Gossip Girl and Savages. Her current shade is a blonde that's golden, because they wanted to keep the hair healthy, not damage it. Rona disclosed that they'd preplanned when going red. It was not something that one had to be aggressive on the hair with. Instead, Rona opted for a marigold color with a little bit of red in it with tones of copper and strawberry–a training red, if you will. To get Blake back to blonde, she mixed that shade with golden blonde for a very rich, sunny hue.
To transition, the base color Rona formulated to go back to blonde for Gossip Girl was a marriage between the strawberry and the golden. Keeping the hair healthful was key. Highlights are required to touch up that kind of color. To maintain this shade of blonde, ask your colorist to pick a level eight golden blonde and ask him/her to highlight every other section (there should be fewer lightened pieces to allow the base to be more visible). Says Rona, "Be sure the highlights are very fine and also add a warm golden blonde lowlight."
To counter fading, Rona suggests using shampoos and conditioners designed for color treated hair blonde hair there is the Kerstase Reflection Chroma Reflect Masque is excellent. Regarding color-depositing conditioners, opt for one that's golden or clear. If you mix a golden conditioner with an apricot for more strawberry, you can mix to reinforce the hues of a warm golden blonde. For neutral shine, Rona loves the John Frieda clear glazes. "It's great sealer for porous blonde hair– you want to do all you can to make the hair light-reflective," explains Rona. She also advises you deep condition every third shampoo. Lastly, Rona adores a product called Rare Elements made in Beverly Hills–especially the brand's shampoo, treatment and oil.
And tell me: Will you be stealing Blake's color concept, stat? Tell me in the comments.
Thanks to Rona for the scoop!
Like this post? Don't miss another one! Subscribe via my RSS feed.