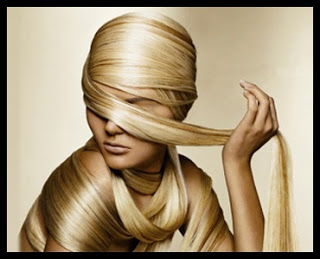 Ladies, I've heard it time and time again–parting with hair extensions can feel like parting with a LIMB. And they are fabulous, but for the health of your strands, giving them a break is important. Not only will your scalp welcome a good thorough scrub, your hair needs a chance to, you know, not have something heavy tethered to it. In short, extensions? Well, they put your hair through the fire. They put it to test, to quote the sage Michael Bolton in his musical styling, "Time, Love and Tenderness" or TLT, as my gal Andrea Lavinthal refers to it. Ironically, it took Michael Bolton FAR too many years to call it a day with his extra-long locks.
When you rid yourself of extensions, you go through the five stages of grief. Then one day you realize: They did you the diservice of not growing out of your head. My pal, the inimitable Ted Gibson suggests that "if you have Great Lengths, if you want to take them out and start over, get clip-ins to get over the crack addiction that is the weave." He says, "When a woman is used to that fullness, it can be difficult to go without. If you are getting your hair trimmed, change the color for a new perspective. You can feel excited about something."
Here's how some of my fellow beauty friends coped when they endured the loss of extensions.
Andrea Lavinthal
"When I had my Great Lengths taken out I felt like I was going from a Range Rover to a Honda Civic. My hair, which dominated every conversation I had, was no longer special or interesting to anyone but myself. However, I wasn't sad to say goodbye to what I called my monthly 'crop rotation' appointments, where I had the stylist remove the loose pieces and put in new ones. Also, my boyfriend at the time was thrilled to regain access to my hair/scalp, since he wasn't allowed to touch my head (not that he wanted to, the extensions reminded him of a cabbage patch kid). "
Liesa Goins
"I wore my hair down most of the time—when I put it in a ponytail or otherwise tried to put it up, the loss of volume felt more obvious to me Professional blowouts were a huge help with the grieving process. A stylist is able to get more volume and make my hair seem thicker than I can do on my own. Also, when I had my extensions removed, I also had color done. Having fresh color helped distract me from the absence of extensions and the dye expands hair a bit so it helped to compensate for some of the volume loss. Adding curl also helped distract me from the loss of volume and thickness. If I had big waves or curls (courtesy of a large-barrel curling iron) it wasn't as obvious that my hair was back to its anorexic state.
And yes, volumizing products helped. My go-tos are Redken Guts spray mousse and Suave Root Boost Spray (for real) and Oribe Dry Texturizing Spray."
Jeannine Morris
If you had Great Lengths or any form of bonded extensions like I did, invest in a set of human hair clip-ins that you can pop in for big events or even daily so you don't feel naked. They're great because you can wash, curl and straighten them, but take them out to sleep or go to the gym. Just make sure you match the color and texture of your hair perfectly. Immediately after you have your extensions removed get a fresh cut so you feel like you have a whole new look. Having healthy, shiny hair makes the lack of hair easier to deal with."
Andrea Arterbery
"UGH. I love how the long full hair brings all the boys to my yard immediately upon first glance when I'm wearing them! However when I take em out I'm always happy to be able to feel, touch and style my real hair again so there's no true devastation. I just like how they make me feel instantly sexy. (which leads to lots of hot moments) ."
"Be prepared with a plan of how you'll wear your hair when it's out. You don't want to go from long hair to a style you can't manage.
Don't be quick to put it back in so quickly. Give your hair and scalp time to rest.
Exfoliate your scalp from product build-up. The amount of residue may shock you.
Switch up your hair accessories to keep things exciting. I cut all my hair and am having a party with bejeweled barrettes. So fun!
Don't be surprised if you miss it. Long hair can be like a phantom limb. You might catch yourself trying to flip hair that isn't there."
What can you gather from this, if you're contemplating going back to your natural hair? It won't be easy. In the paraphrased words of Michael Boltin, you'll say that you can't go on. Short hair left you cryin'. But shake off those sad blues. Get yourself a new 'DO.
Someday you'll laugh at the heartache. Someday you'll laugh at the pain. But by golly, you will get THROUGH it. I recommend you pop Viviscal, a twice-daily supplement that has helped my hair grow like a WEED.
Hang in there, friends!  You just need a little Time, Love and TENDERNESS to deal with your long-hair loss. And tell me: What's your best advice to coping with hair extension withdrawal?
Like this post? Don't miss another one! Subscribe via my RSS feed.